Academic Advising and Planning
Our professional academic support staff will help you evaluate your strengths and interests, choose classes each semester, discover opportunities for involvement, and work to find solutions to issues that arise. We will act as your guide, from applying for admission to the professional program, graduation, initial teacher licensure, and beyond. We work with you to navigate the challenges and successes you face as a student at K-State and in the College of Education to make your trip as smooth as possible.
Meeting your goals begins with developing a relationship with your academic advisor and creating an individualized graduation plan. Do you want to see the world? Want to add a major or minor? Your advisor can help you map out your collegiate career.
---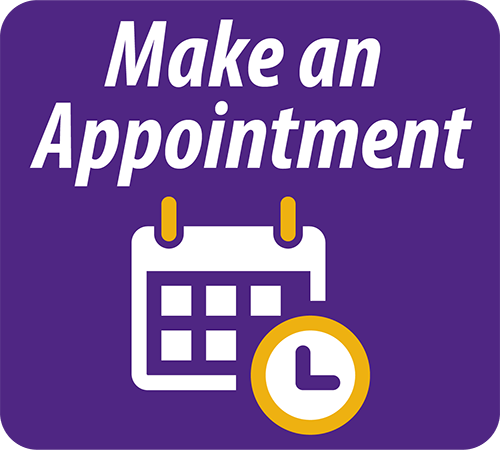 If you are a student in the College of Education, you can make an appointment with your advisor online using SSC Campus. If you are interested in the College of Education, please contact the office in 013 Bluemont Hall at 785-532-5524.
**COVID-19 Updates: The Center for Student Success & Professional Services will continue operating with normal business hours to assist students. Advising appointments will still occur but through remote measures (such as phone call, email, Zoom conferencing, etc.). Students should discuss the preferred meeting method with their advisor. University updates can be found by going to https://www.k-state.edu/covid-19/.
---
Create a Graduation Plan
A graduation plan is a comprehensive list of courses to be taken by semester. The plan should include the requirements needed to graduate with a Bachelor of Science in Elementary or Secondary Education and obtain your teaching license.
The following is a guide to assist you with creating a personal plan.
Estimate the number of semesters YOU need to complete the program. Students may complete the program in 4 years BUT most students need to plan 4-½ -5 years or 9-10 semesters. A four-year plan requires excellent planning and in most cases summer courses.
Identify the semester you plan to graduate. This is the semester you will complete your student teaching. You cannot plan for any concurrent courses during this semester.
Graph or chart the number of semesters estimated from item 1. Create the plan using an easy to revise format. As course offerings change, so should your plan.
Start by working backwards and inserting professional/block classes for the last 3-4 semesters. Blocks A, B, C and Student teaching OR Blocks I, II and Student teaching.
Continue inserting classes for each semester until all are accounted for on the curriculum guide. You may find the need to adjust the plan by adding summers or full semesters.
Include all the College of Education requirements and deadlines on your plan.
Remember – this is your plan and it is your responsibility to update it. Course offerings are subject to change every semester. Therefore, the graduation plan is only meant to be a guide and doesn't replace regular meetings with an academic advisor.
---
Advising Syllabus and Student Handbook
The information in this syllabus is designed to help you get the most out of your advising relationship. It is an important document to guide you on your path to success.
→ Kansas State University Academic Advising Syllabus (PDF)
→ Student Success Checklist (PDF)
Student Handbook
The information in this handbook is for you as you prepare to be a teacher. It provides an orientation to important procedures and requirements in the College of Education.
→ College of Education Undergraduate Student Handbook (PDF)
---
Things to Do and Know:
Before Classes Begin: First Steps
Getting Started and Connected: Pre-Professional Students
Review K-State's Student Learning Outcomes.
Explore your academic and career interests. Choose one to study in more depth.
Assess your strengths and skills. Complete CliftonStrengths.
Explore intrapersonal factors related to academic and career goals.

Clarify your personal values, especially as they relate to academic and career choices.
Explore connections between your interests, values, and strengths and potential careers.
Arrange for experiences that will help you clarify your goals.
Use multiple resources to maximize your undergraduate experience (advisors, study groups, student organizations, volunteering, electives, student services).
Explore majors and minors, education abroad, research, internships, honors program.
Attend programs sponsored in the College of Education or other organizations as well as lectures and other campus activities.
Acquaint yourself with the features of the teacher education program. Develop an academic plan and goals toward graduation.
Take Core Academic Skills for Educators tests (not required if ACT is 22 or higher).
Apply for Admission to Teacher Education.
Complete First Aid/CPR certification.
See your advisor at a time other than pre-enrollment.
Meet your content area faculty.
Review K-State's Honor & Integrity information.
Every Semester: Steps to Academic Success
Complete each item every semester
Becoming a Professional and Preparing for the Field: Professional Students
Advising Learning Outcomes
Knowledge: Demonstrate a working knowledge of degree requirements, career options, campus resources, and enrichment activities.
Critical thinking: Demonstrate the ability to identify goals, construct short-term and long-term plans, respond and adapt to changing situations, interpret degree requirements, make complex decisions, solve problems, and evaluate actions.
Communication: Demonstrate the ability to communicate clearly and effectively.
Diversity: Demonstrate awareness and understanding of the skills necessary in order to live and work in a diverse world.
Academic and Professional Integrity: Demonstrate awareness and understanding of the ethical and professional standards of the university, academic discipline, and profession.
Student Responsibilities for Advising
Get to know your advisor.
Work with an advisor to develop and implement short-term and long-term academic, personal and career goals.
Discuss the following: goal setting, campus involvement opportunities, changing majors, time management, study tips, adding minor/certificate/secondary major, and career planning/life after graduation.
Utilize your advisor when academic or personal challenges arise.
Familiarize yourself with requirements for your major by utilizing the information given to you by your advisor and the Degree Audit Report System (DARS) in KSIS. Remain informed of progress in meeting academic requirements.
Schedule and keep appointments with your advisor. Attend appointments prepared by bringing appropriate materials, identifying course choices from requirements of the preferred program or major, and identifying questions to address.
Know academic policies and procedures, academic calendar deadline, and degree or program requirements.
Tell your advisor if you have any special needs or require any learning accommodations. Understand the enrollment requirements needed for your financial aid, scholarship, or international status.
Check your email on a regular basis. You will be responsible for reading any messages sent to your K-State email account which will be used to disseminate information from your advisor.
Advisor Responsibilities for Advising
Help students set both short-term and long-term educational and career goals.
Prepare students for graduation by discussing the degree requirements of their department, help with strategic course selections to minimize the number of semesters required for graduation, and inform students of opportunities in their field of study.
Maintain reasonable hours and methods of availability for students. Students should be able to set up appointments for an adequate amount of time to discuss goals and career choices, make curricular selections, and answer other questions.
Refer students to appropriate campus resources.
Inform students how to change college and/or departments and provide information to explain the process students follow to enroll in their curriculum and to drop or add courses during the semester.