Assimilation vs. Acculturation
Stephanie Bird-Hutchison from Wichita USD, a newcomer specialist, explains the difference between assimilation and acculturation.
This video is also available in the full documentary film.

Transcription:
What does it mean to teach a child in a way that's respectful of their family background? What is it take to respect the home while trying to help them learn how to navigate in our society and our culture? Acculturation to me is learning how to keep your culture while interacting successfully with other cultures. It's like the salad bowl concept of everything stays independent but it all mingles together and enhances each other, whereas assimilation to me is more of the melting pot where you lose who you are in order to become more like the dominant culture. Not expecting all of these families coming in from all over the world to suddenly look like a family that's been here for five generations like mine.
When we see kids starting to shed who they were then we see a disconnect happening at home and that creates more social issues for the family, as well as more challenges for the child to find their way and their anchor in the world. I get a lot of questions about will they be offended if I do this? And my answer is starting to become, why don't you ask them? Because they'll talk to you and tell you what is and isn't okay. So dealing with a diversity within the population – it's not a one-size-fits-all and so we need to respect that and know that one of our strengths as a country and as a people is that we do have all of these different backgrounds to draw from. And that makes us stronger.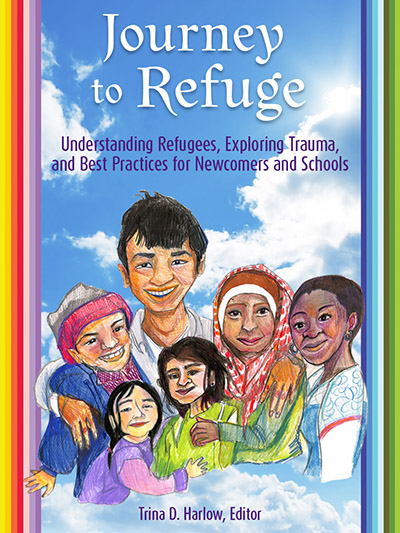 Download the eBook at New Prairie Press.
Recommended Citation: Harlow, Trina D., "Journey to Refuge: Understanding Refugees, Exploring Trauma, and Best Practices for Newcomers and Schools" (2019). NPP eBooks. 26. https://newprairiepress.org/ebooks/26/
This work is licensed under a Creative Commons Attribution-NonCommercial 4.0 International License.
See the full Refuge in the Heartland documentary.