Journey to Refuge eBook Companion Site
Welcome to the companion site for the eBook Journey to Refuge: Understanding Refugees, Exploring Trauma, and Best Practices for Newcomers and Schools, edited by Trina D. Harlow.
"If we all did something right where our two feet stand, collectively we might do something to help make the world a better place for the children, adolescents, and adults that call it home." – Dr. Trina Harlow
---
Published April 2019
Recommended Citation: Harlow, Trina D., "Journey to Refuge: Understanding Refugees, Exploring Trauma, and Best Practices for Newcomers and Schools" (2019). NPP eBooks. 26. https://newprairiepress.org/ebooks/26
This work is licensed under a Creative Commons Attribution-NonCommercial 4.0 International License.
---
Introduction
This book, Journey to Refuge: Understanding Refugees, Exploring Trauma, and Best Practices for Newcomers and Schools, and the corresponding film, Refuge in the Heartland, while born in the minds of Kansas State University College of Education faculty member, Trina Harlow, and video producer, Rusty Earl, materialized because of the vision of Dean Debbie Mercer and her desire for the college to be educational leaders not only in Kansas, but also in the United States and around the world. While Dean Mercer is a scholar, researcher, and leader, she is a teacher at her core. She is a champion for children, adolescents, and adults and knows the power of education in the lives of human beings and society. Dean Mercer knew this was a difficult topic to address, especially from Kansas which is geographically located in the heartland of America, and a very long way from where most of the people UNHCR lists as forcibly displaced experience the life-changing difficulties that uproot them from their homes and communities. Dean Mercer, Rusty Earl, and Trina Harlow worked together to bring this important world story to light, and to not only tell the story, but to tell the story well through both the film and the companion book.
---
Review
"This book is an absolute must for any educator or concerned community member situated within the world's refugee reality. No one – anywhere – is currently exempt from the world's refugee situation, and therefore, this book is relevant to all! Journey to Refuge is especially helpful to committed educators within the U.S. who are new to this reality, but also to long-term practitioners in the humanitarian and development fields. Refugees are displaced for more extended periods, and half of all refugee children are out of school. Education is, therefore, transformative in emergency and protracted refugee situations. Diverse, expert voices define key terms, introduce a legal framework that is crucial to understanding forced migration, and unpack trauma."
"The global refugee situation can feel so overwhelming that at times, people wonder how they could make a difference. Amid this reality, Journey to Refuge offers a path forward for anyone who wants to move beyond despair to action, with concrete tools. The book engages the reader beyond the pages with short video features and a full-length documentary for those who want to go deeper, or even deep dive into one of the greatest moral and practical challenges of this age. Regardless of where you are from – from Kansas to a refugee camp in Kenya – the reader feels compelled to act and be part of solutions in this unprecedented age of human displacement."
– Jill Drzewiecki, Jesuit Refugee Services, Rome, Italy
---
Book Summary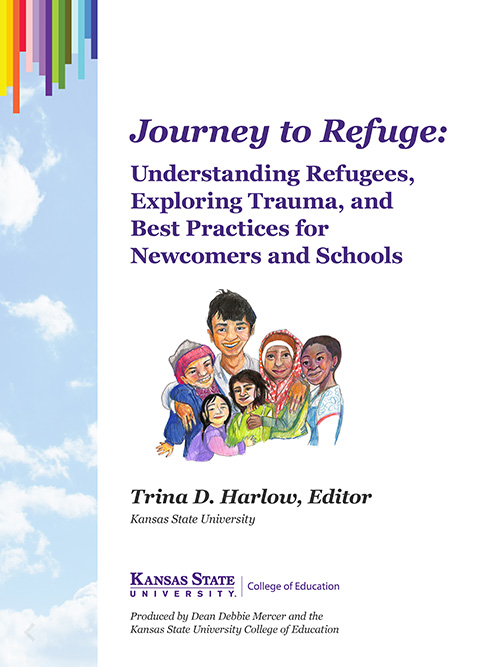 The book, Journey to Refuge: Understanding Refugees, Exploring Trauma, and Best Practices for Newcomers and Schools, provides additional information and an expanded group of contributors than the film. The book is organized into three sections. The first section informs the reader about what it means to be a refugee, explains some world policy related to child refugees, gives a glimpse into what it is like to live in or volunteer at refugee camp, and explains some of the linguistic needs of refugee children. The second section of the book explains basic knowledge about trauma and the brain as it affects refugee children, explores the social justice aspect of being a newcomer student, and discusses using art as a therapeutic tool. The third section of the book provides some best practices for the classroom from art teachers, ESOL teachers, discusses the need for teachers of color in the United States, and also explains school newcomer programs. All throughout the book there are Spotlight features that explore many non-profit organizations and resources for those who work with refugee or newcomer children. There is also a behind the scenes section on the filming of the documentary film, Refuge in the Heartland.
One cannot work on a project like this refugee book and film without it having a profound effect on your thoughts and emotions, and that is simply because the subject is literally the thoughts and emotions of people – refugees – who have lost nearly everything and now try to find a new life here in Kansas and elsewhere in the various places they resettle. This book, and the film it is a companion to, have the singular goal of expanding the knowledge base of teachers, other educators, and volunteers who work with newcomer students, especially refugee children and adolescents. We wish to thank the many authors and contributors who came together from all over the world to help bring this book to fruition – world policy makers, refugees, UNHCR staff, refugee camp volunteers, scholars, biography and linguistic specialists, counselors, therapists, social justice experts, art teachers, ESOL teachers, university education professors, and global visionaries and experts in the field who are leading initiatives all over the world. It is our goal for the reader to learn more about this issue and apply that learning in the local school and community, wherever that local school may be. Through the personal and professional sharing of story and experience, the authors and contributors boldly lend their own story and voice to this world issue, as a collective body of knowledge to influence and affect education of real children, real adolescents, real teachers, real educators, and real schools… now doing their part to contribute to a global issue that affects us all.
---
Authors and Contributors
Pat Rubio Beltran, Lighthouse Relief, Chalkida, Greece
Joel Bergner, Artolution
Professor Jacqueline Bhabha, Harvard T.H. Chan School of Public Health
Borderless Higher Education for Refugees
Diana Delbecchi, St. Norbert College, De Pere, Wisconsin
Rusty Earl, Kansas State University
Max Frieder, Artolution
Paola Gomez, Muse Arts, Toronto, Canada
Mary Hammel, Kansas State University
Dr. Trina Harlow, Kansas State University
Dr. Socorro Herrera, CIMA, Kansas State University
Melissa Holmes, CIMA, Kansas State University
Dr. Judy Hughey, Kansas State University
Dr. Sally Adnams Jones, Victoria, British Columbia
Shabina Kavimandan, CIMA, Kansas State University
HaEun Kim, York University, Borderless Higher Education for Refugees
Holly Kincaid, Skyline Middle School, Harrisonburg, Virginia
Dean Debbie Mercer, Kansas State University
Jessica Mow, Curtis Middle School, Wichita, Kansas
Joshua Orawo, UNHCR, Senior Protection Assistant, Kakuma Refugee Camp, Kenya
Nicole Palasz, Institute of World Affairs, University of Wisconsin-Milwaukee
Andrea Davis Pinkney, Internationally Acclaimed Best-Selling and Award-Winning Author
Johanna Reynolds, York University, Muse Arts
Hawa Sabriye, York University, Borderless Higher Education for Refugees
Leah Spelman, Partnerships for Trauma Recovery, Berkeley, California
Dr. Be Stoney, Kansas State University
Marie Taylor, Valley Center Middle School, Valley Center, Kansas
Alex Wakim, musician
Dr. Lily Yeh, Barefoot Artists, Global Genius
Dr. Susan Yelich Biniecki, Kansas State University
Dr. Jeff Zacharakis, Kansas State University
Note: Other organizations and publications have been featured in Journey to Refuge. This list represents those that contributed chapters, spotlight sections, or made other contributions.
---
Film Summary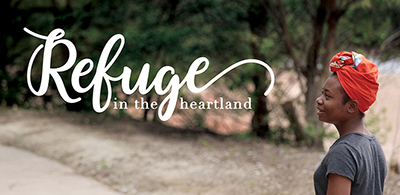 Refuge in the Heartland was produced by Kansas State University's College of Education in 2018. Filming took place in Washington D.C., Kansas, and Toronto, Canada. Various leaders in child refugee policy, education, and community representatives came together to share their experiences and knowledge in this field. However, the most poignant aspects of the film are the stories of the refugees themselves. While the film introduces the viewer to several refugees, the film most profoundly follows the story of two high school students, Dorcas and Alain, as they share parts of their life's story in an effort to call attention to the circumstances that caused them to leave their homes in Africa and come to Kansas. The film has the purpose of informing the viewer about what it means to be a refugee and how children are affected by the issue of forced displacement and being a refugee.
The film also is a tremendous resource for educators and others who work with refugee students. By hearing from teachers and other educators in schools in Wichita, Kansas, the film gives educators all over the world insight into how to provide more meaningful learning and experiences for students who have been forcibly displaced and sought asylum as refugees.
It took a village to produce, direct, and develop this film. Hundreds of people contributed their professional skills, recommendations, advice, personal experiences, and stories. It is through the sharing of personal experiences that we all grow and learn more about the overall issue of displacement and resettlement and then, and only then, as a collective world people we may begin to find better solutions for the people it affects.
---
For more information about the eBook or film, please contact Dr. Trina Harlow, Book Editor and Film Co-Director, at drtrinaharlow@gmail.com.