Kansas Association for Native American Education (KANAE)
The Kansas Association for Native American Education (KANAE) is a professional organization of advocates for Native American, First Nations, and/or Indigenous students across the state of Kansas. The organization was created to address the need for growth and greater visibility of Indigenous people, nations, and perspectives in and across the educational environments in our state, and beyond. This includes prioritizing Indigenous knowledges and perspectives in our mainstream educational settings. Kansas sits upon the Indigenous lands of several Native nations, and is currently the home of the Iowa Tribe of Kansas and Nebraska, Kickapoo Tribe in Kansas, Prairie Band Potawatomie Nation, and Sac and Fox Nation of Missouri in Kansas and Nebraska. It is important that we keep the perspectives and knowledges of these nations visible within our educational systems.
Our mission, then, is to support, promote and advocate for the unique educational needs of American Indian/Alaska Native students, families, nations, and educators in Kansas. We provide quality services, events, information and tools for our stakeholders to build a strong communication network which spreads best practices and Indigenous knowledges throughout the state.
Membership
Are you interested in becoming part of our KANAE advocacy network? This will allow you to connect with other American Indian educators across the state and region, and help you connect with knowledgeable professionals in various Indian education contexts who might be able to assist you in your own local advocacy work.
Membership is currently FREE – please register here so that you can receive information about upcoming events, as well as connect with KANAE members across the state and region. We look forward to working with you!
A collaboration between the Kansas Association for Native American Education (KANAE) and the Nebraska Indian Education Association (NeIEA)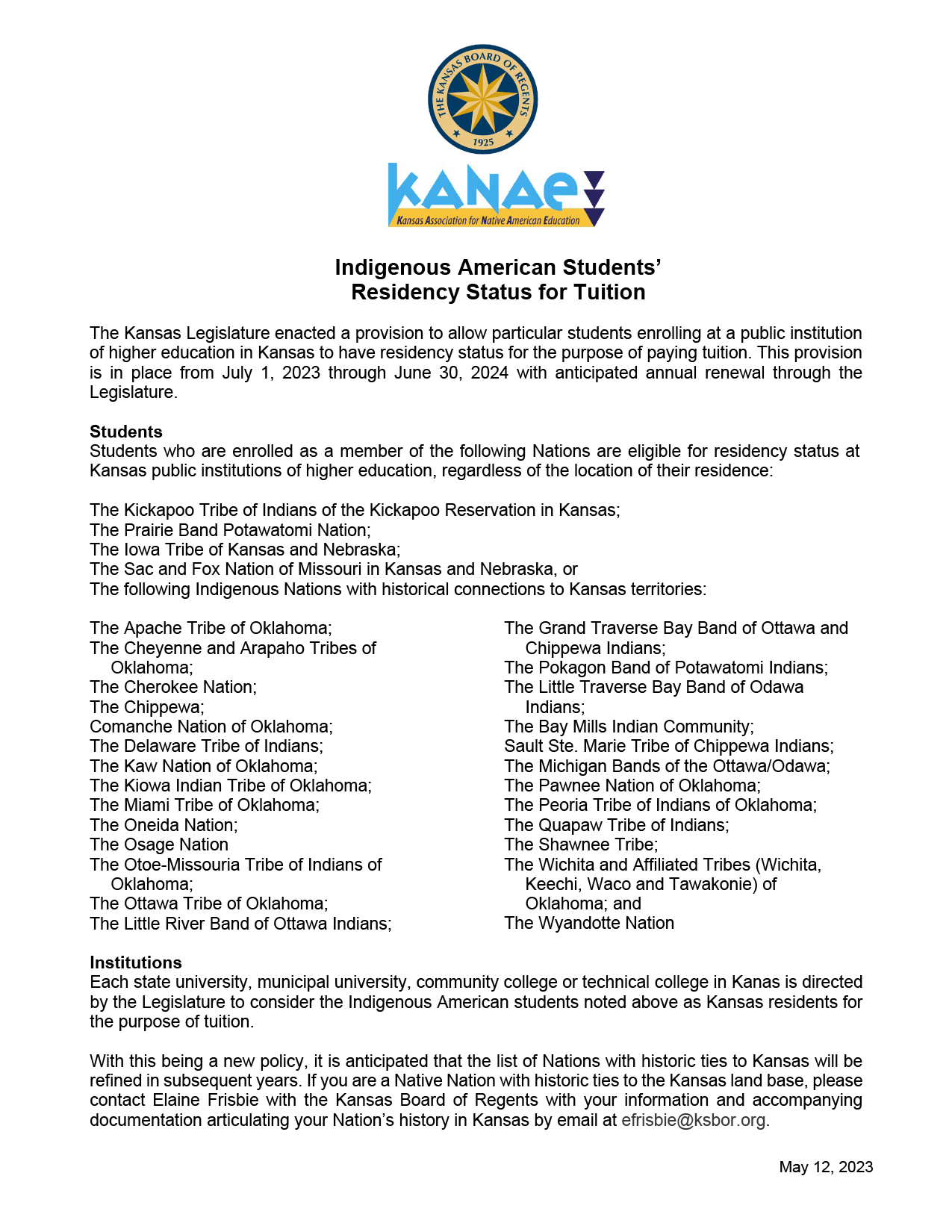 Executive Director
Alex Red Corn (Osage)
Assistant Professor of Educational Leadership, Coordinator for Indigenous Partnerships, Co-Chair of the K-State Indigenous Faculty and Staff Alliance (IFSA)
aredcorn@ksu.edu
Associate Executive Director
Melissa M. Peterson, MPH | Diné (Navajo)
Director of Tribal Relations
University Academic Support Centers