Counselor Education and Supervision Doctorate (Ph.D.)
Accredited by the Council for the Accreditation of Counseling and Related Educational Programs
The Ph.D. in Counselor Education and Supervision prepares graduates for professional leadership roles in counselor education, supervision, advanced counseling practice, and research. The doctoral program is designed for those who aspire to careers in counselor education at colleges and universities; teaching, counseling, and supervision at community colleges; director of counseling programs in P-12 programs; consultation to community agencies, business/industry, and/or state departments; counseling and supervisory positions in student development; and/or, mental health private practice counseling. Graduates will complete the program with the coursework to apply for a mental health counseling license.
The program requires a minimum of 96 hours post baccalaureate and includes coursework in counseling, supervision, teaching, leadership, and research, culminating in a dissertation that is a unique contribution to the field. Students develop an area of focus of 6 hours of courses outside of the department planned with concurrence of the committee. The program includes a minimum of 12 hours of dissertation research.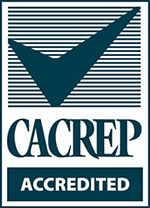 The Counselor Education and Supervision doctoral program received an eight-year re-accreditation from the Council for Accreditation of Counseling and Related Educational Programs (CACREP), the official organization that accredits graduate programs that prepare counseling professionals – counselors, counseling supervisors, and counselor educators. The CACREP accreditation represents the gold standard in counselor education. To be accredited by CACREP programs engage in a rigorous evaluation standards-based process.
Additional program information can be found on the Ph.D. Program Fast Facts Sheet (PDF).
Course Delivery: Manhattan Campus; some courses available Online
Credits: Minimum of 96 hours post baccalaureate
Tuition Information: See the Cashiers and Student Accounts website for tuition and fee schedules.
→ Start the Application Process
For more information about the program, call 785-532-5541 or email cjwalker@k-state.edu.
---
Graduate Assistantships
Graduate assistantships are available in the College of Education and across the University. Program faculty work to communicate openings and facilitate connections regarding assistantships opportunities.
Student Learning Outcomes Aligned with 2016 CACREP Standards Program Outcomes
Graduates will demonstrate knowledge and skill in scholarly examination of theories relevant to counseling, ethically integrate evidence-based theories to counseling practices recognizing culturally relevant needs in multiple settings, and evaluate effectiveness of methods.
Graduates will demonstrate knowledge and skill in legal, ethical, culturally relevant, and theory-based supervisory instruction implementing technology as appropriate and grounded in relationships that promote the development of skills in evaluation, remediation, and gatekeeping.
Graduates will demonstrate knowledge and skill in accreditation standards and processes, ethical online and on-campus curriculum design, assessment, and evaluation methods relevant to counselor education.
Graduates will demonstrate knowledge and skill of the roles and responsibilities and ethical and culturally relevant pedagogy and teaching methods for adult development and learning in counselor education.
Graduates will demonstrate knowledge and skill in ethical and culturally relevant processes and strategies for designing and conducting research and scholarship inclusive of program evaluation; qualitative and quantitative, univariate, multivariate, and emergent designs, methods, and analysis, research questions for professional writing for journals, grants, and conference proposals.
Graduates will demonstrate knowledge and skill in theory-based ethical leadership and advocacy in professional organizations and on behalf of the profession and professional identity; response to crisis and disasters; practices related to multicultural and social justice issues; and engagement and consultation with local, state, national, community policymakers.
Graduates will demonstrate knowledge and application of professional dispositions including professional behaviors; adherence to site, course, and program tasks and policies; multicultural competence in counseling; flexibility and adaptability; openness to feedback and change; congruence and genuineness; integrity; emotional stability and self-control; and initiative.
Additional Information and Resources
---
Curriculum
Professional courses (24 credit hours)
Cognate area (6 credit hours)
Students will develop an area of focus of courses outside of the department planned with concurrence of the committee.
Practicum/Internship (9 credit hours)
Research courses (15 credit hours)
Research (12-15 credit hours)
---
Admission Requirements
Admission to graduate study is granted by the Dean of the Graduate School upon the recommendation of the faculty in the graduate program. Applicants seeking admission to this degree program must submit the information noted below. Before starting the online application, gather all information and documents for all of the admission requirements so that they can be uploaded into the application system. All materials must be received before review will begin.
Completed Online Graduate School Application.
(Follow the prompts for completing the application process.)
Application Deadlines

U.S. Citizens and Permanent Residents: Applications are accepted throughout the year.
International Students: The online application, application fee, test scores, transcripts, financial documents and all required application materials need to be submitted by the following dates:

January 1 for fall (August) enrollment
August 1 for spring (January) enrollment
December 1 for summer (June) enrollment

Graduate School Application Fee

Domestic Students: A $65 application fee is required for all domestic students; the application will not be processed without this fee. The fee can be paid by credit card when completing the online application.
International Students: A $75 application fee is required; the application will not be processed without this fee. The fee can be paid by credit card when completing the online application.

Official Transcripts

You must upload into the online application system a scanned copy (PDF preferred) of the official transcript(s) from each college or university where you received your bachelor's degree(s) and completed any post baccalaureate course work or degrees. Transcripts become part of your records at Kansas State University and cannot be returned. Please be aware that printouts from university student portals are not considered a copy of your official transcript.
If you are admitted, you will be required to submit an official transcript for GPA and degree conferral verification from the institution(s) where you received your degree(s) and completed any post-baccalaureate credits.
Students whose transcripts are not in English must furnish a translation by an appropriate authority. Failure to list any colleges or universities attended may result in dismissal from the university.

Statement of Goals and Professional Experience

You must upload into the online application system a 3-5 page, double-spaced paper that addresses the following topics:

Career and professional goals and aspirations, and how being accepted to the program will benefit the goals and aspirations;
Evidence of commitment to the counseling profession;
Competencies and experiences related to the program (e.g., counseling skills and experience, interpersonal skills, teaching skills, program development experience);
Evidence of motivation, leadership, and strong work ethic;
Knowledge, competencies, and experience related to research;
Research interests;
Evidence of experience with diversity and, if applicable, fluency in languages other than English; and
Professional experiences that support application.

The paper is to be well written and thoughtfully presented. For resources to help writing the paper, see the Purdue Online Writing Lab (OWL). An additional writing sample(s) that is independently authored may be submitted as part of the application process (e.g., graduate course paper, thesis, published article).

Scholarly Writing Sample (Replaces the GRE Requirement)

An important aspect of doctoral work is to advance and apply scholarship on educational issues within the context of the academic program. For the purpose of this application, please consider a complex issue related to counselor education and supervision that you find important and compelling, and develop a scholarly essay (approximately 5-8 pages) which includes:

an overview of the issue you've chosen to explore (e.g., research, practice, ethical, cultural considerations),
a presentation of the current state of knowledge in the literature related to the issue (citing sources as appropriate), and,
conclude with a possible interpretation of the critical issue from at least two different perspectives, including a first stab at the potential for future research on the topic. How could you further study this issue?

The essay should be uploaded as a MS Word document or PDF file, double-spaced, formatted in APA (7th ed.) style, and include a minimum of 5 scholarly (peer-reviewed) sources. The essay will be assessed according to the following elements: overview of the issue, incorporation of existing literature, interpretation of the critical issue, articulation of future research ideas, and overall coherence and readability.

Letters of Recommendation

Three letters of recommendation are needed from college or university educators and/or colleagues or supervisors who are qualified to address your professional skills and your potential for success in the graduate program. Enter the names and email addresses of the recommenders into the appropriate area in the online application.

A Professional Resume or Vitae

You must upload into the online application system a professional resume/vitae that includes previous academic degrees, past and present employment, professional activities and roles, and other pertinent information.

An Interview

An interview with faculty members in this program may be requested before an admission decision is made (e.g., phone, video conference, on campus).

English Language Proficiency

To demonstrate competence in the English language, an official report of scores on the Test of English as a Foreign Language (TOEFL), International English Language Testing System – academic exam (IELTS) or Pearson Test of English (PTE) must be sent to Kansas State University for all applicants whose primary language is not English. Enter your scores in the online application and upload the report of your scores.
Learn more about English proficiency requirements
International applicants must meet the same academic standards for admission as those required of domestic students. When applying for admission, international applicants must provide an Affidavit of Financial Support and documentation of English language proficiency. Detailed information about these issues is provided at the Graduate School's International Students web page.