Center for Social Studies Education (CSSE)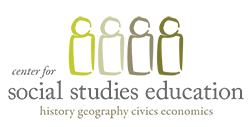 Dr. Tom Vontz, Director – tvontz@k-state.edu
Dr. Brad Burenheide, Associate Director – bburen@k-state.edu
The Center for Social Studies Education was created during the 2008-2009 academic year to serve as a focal point to promote social studies education and engage in programs to advance that cause.
---
CSSE News
'Teach less, better' is key concept in social studies symposium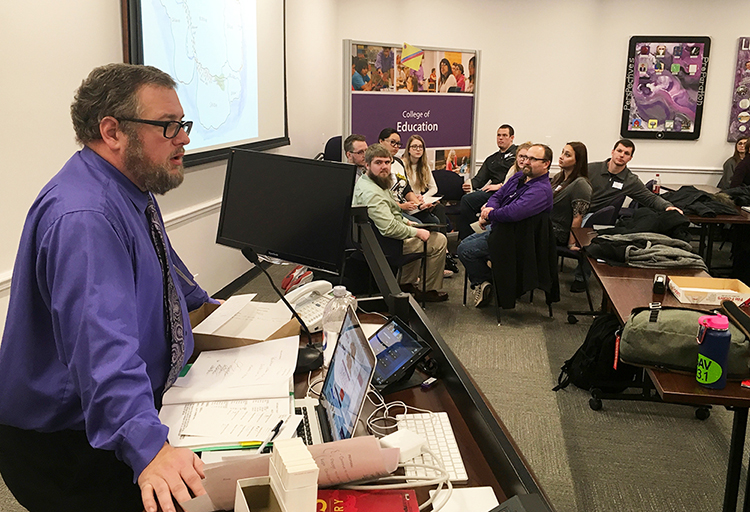 About 50 current and future social studies teachers spent a day in Bluemont Hall trying to avert world war during the Annual Social Studies Symposium, a professional development exercise. Brad Burenheide, associate professor of curriculum and instruction, led the symposium where participants were divided into six groups. Each group received a manila envelope containing the name of their fictitious country, a flag, rules for diplomacy and an outline of their nation's position relative to their neighbors. "In the 30-plus times I have given this exercise, only once was war averted," Burenheide said. "One group quickly realized there was no way everyone was going to get what they wanted so they pulled all the groups together to work on a solution. It was a stunning display of diplomacy."
Throughout the symposium, Burenheide offered several strategies on how to teach complex concepts to students ranging in age from 5th grade to high school. "One of the maxims I share with my students is to 'teach less, better,' which means we need to not worry about the breadth of the textbook but make sure our students are getting the big ideas contained within the curriculum at a more intense level," Burenheide said. "To do this means we have to use simulations and experiential learning to get our kids involved."
The concept hit home. "Learning how to 'teach less, better' from Dr. Burenheide is a lesson every teacher should experience," said future teacher Jillian Barel. "Sitting with a group of teachers who are actively learning how to engage students was both encouraging and inspiring."
While the day's efforts were focused on teaching skills, Alex McConaghy, '08, social studies teacher at St. Marys High School, explained it's days like this that may have an important impact on the future. "Society will be the ultimate benefactor as teachers help students become better problem solvers, not just for today but for future generations," MCConaghy said. "The games we played were not games, they were a way for us to realize that society is one big group project. Dr. Burenheide's passion inspired us to grow educators."
---
College of Education hosts 2018 'We the People' state championships
For two years in a row, Blue Valley Northwest High School has won the annual "We the People" state competition and will head to Washington, D.C. for national competition. Blue Valley Northwest High School, led by government and AP government teacher Ken Thomas, won the "We the People" competition. Emporia High School took second place, and Junction City High School placed third. Colman McCarthy with the Johnson County First Amendment Foundation presented Blue Valley with a $5,000 check to help pay for the team's travel expenses to the national "We the People" competition this spring in Washington, D.C. The foundation is supporting Emporia's trip to the national competition with a $1,000 contribution.
The event was organized by College of Education faculty members Brad Burenheide, associate professor of curriculum and instruction, and Thomas S. Vontz, professor of curriculum and instruction and director of the Center for Social Studies Education. "The students were impressive, making reasoned arguments about critical constitutional issues and connecting constitutional ideas to historical and current events," Vontz said. "This kind of intelligent, mature, and civil discourse about our similarities and differences has been and will continue to be an important marker of the health of our republic. This doesn't happen accidentally and requires deliberate attention to help "We the People" thoughtfully engage the ongoing debates about the meaning and application of constitutional ideas. Brad and I applaud the teachers of these ideas because they are on the front lines of attempting to keep our experiment in self-government vibrant and healthy."
Burenheide and Vontz both expressed how impressed the volunteer judges were. The judges were teachers, K-State education students, and actual judges from the state who volunteered their knowledge and time to evaluate the performance of the students.
---
CSSE Resources
State Organizations:
National And International Organizations:
---
Civic Engagement Programs
We the People
The Center for Civic Education is a nonprofit, nonpartisan educational corporation dedicated to promoting an enlightened and responsible citizenry committed to democratic principles and actively engaged in the practice of democracy in the United States and other countries.
The Center specializes in civic/citizenship education, law-related education, and international educational exchange programs for developing democracies. Programs focus on the U.S. Constitution and Bill of Rights; American political traditions and institutions at the federal, state, and local levels; constitutionalism; civic participation; and the rights and responsibilities of citizens.
---

We the People: Project Citizen
We the People: Project Citizen is a civic education program designed to foster the development of students' interest and ability to participate competently and responsibly in local and state government. Developed in 1995 as a middle school program, versions of Project Citizen are now available for high school and adult participants.
The program at Kansas State University is a sub-award from the Center for Civic Education in Calabasas, California, with funds from the U.S. Department of Education.
---
Civitas International Programs
The Center for Civic Education's Civitas International Programs bring exemplary civic education curricula to students worldwide through partnerships with organizations in the United States and in more than 70 countries. This unique network of educators, civil society organizations, educational institutions, and governmental agencies has worked for more than a decade to develop quality curricular materials and train teachers throughout Eastern Europe, the former Soviet Union, Africa, Asia, Latin America, and the Middle East. Many countries in the Civitas network collaborate with model civic education programs in U.S. states and in other countries to develop programs that address their specific civic education needs.
Civitas International Programs are directed by the Center for Civic Education and funded by the U.S. Department of Education under the Education for Democracy Act approved by the United States Congress; additional support is provided by the U.S. Department of State, the U.S. Agency for International Development, and other sources.
---
Civics Mosaic
In October 2002, the U.S. Department of Education awarded a five-year grant, as part of its Cooperative Civic Education and Economic Education Exchange Program, to the Council for Citizenship Education at Russell Sage College to develop Civics Mosaic, an international exchange program in comparative civics.
Research plays an important role not only in the program evaluation of Civics Mosaic but also in its program activities. In fact, both program and evaluation have been determined to be subject to federal human participant protection regulations.