Catalyst Staff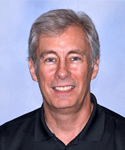 Dennis Devenney
Director
16H Bluemont Hall
785-532-5926
dennis@k-state.edu
Read More
Education
B.S. - Kansas State University
M.S. - Curriculum and Instruction, Kansas State University
Mary Hammel
Associate Director
16D Bluemont Hall
785-532-5893
mhammel@k-state.edu
Read More
Bio
Mary Hammel has been a designer and media/technology specialist for the college since 1980. Her work involves design and production of print and digital materials for educational publications and classroom use. In addition to her design capabilities, she is an accomplished photographer, exhibiting and publishing her work and presenting on topics such as photographic composition. Mary also manages and maintains the College's website.
Education
B.F.A. - Graphic Design, Kansas State University
M.S. - Secondary Education/Educational Technology, Kansas State University
M.F.A. - Visual Communication, Kansas State University
Research Interests
Visual communication, photography, book arts, and eBooks
Jason Ruggels
Information Technology Manager
16G Bluemont Hall
785-532-5926
jasonruggels@k-state.edu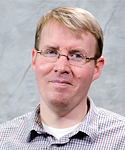 Rusty Earl
Video Producer
16-O Bluemont Hall
785-532-5926
rearl@k-state.edu
Read More
Bio
Rusty has been filming and producing videos since 2006. He has filmed everything from short stories, web commercials, documentaries, even a feature length indie film (Sage Riders). During the summer of 2012, Rusty travelled to Tanzania to film a documentary on the work of Dr. Marilyn Kaff. Rusty loves to capture an image that tells a story and hopes that any work he produces has the ability to tell a story well.
Education
B.S. - Theatre/Speech Education, Brigham Young University-Idaho
M.S. - Education Technology, Walden University
Research Interests
Documentary filmmaking, cinematography, narrative short form, student film festivals
Please check out some of Rusty's work on vimeo: https://vimeo.com/rustyearl
Patrice Scott
Communications Coordinator
16B Bluemont Hall
785-532-2521
patrices@k-state.edu
Valorie McKain
Resource Support
16L Bluemont Hall
785-532-5926
vmckain@k-state.edu