Military Initiatives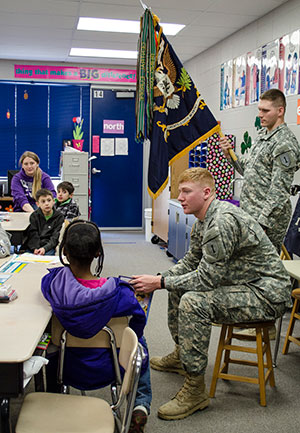 The College of Education at Kansas State University is committed to preparing our students and faculty to provide quality and relevant education for military personnel, veterans and their families. Issues related to military-connected learners are being addressed daily by the faculty of the College of Education who educate teachers, principals, superintendents, adult educators, school counselors, special educators, and postsecondary advising and student personnel services staff.
---
College-wide Military-connected Learner Initiative
The college is making a significant contribution to the education of military-connected students and veterans and is impacting the education of our undergraduate and graduate students in their knowledge of and appropriate pedagogy and practice for veterans, members of the military and their families. The College of Education developed a college-wide Military and Veterans Educational Initiative to organize the various military-related activities across the college and to plan for a holistic and sustainable approach to working with our students. The goal of the initiative is to build capacity in the K-State College of Education to:
Prepare pre-service and in-service school personnel to serve military-connected students and families;
Meet the needs of our military-connected COE undergraduate and graduate students;
Contribute to the knowledge base about education and military-connected students and families; and
Collaborate with other military/veteran initiatives across campus.
This college-wide initiative was built on a strong foundation of decades of involvement with military-connected graduate students by the Adult Education program at Ft. Leavenworth and with USD 475 Geary County schools on Fort Riley, a close neighbor of K-State. The initiative is unique because it represents a college-wide approach that involves faculty, staff and students.
---
Teacher Preparation
The College of Education became one of the first 100 universities to join Operation Educate the Educators, a nationwide Joining Forces initiative following guiding principles from the American Association of Colleges for Teacher Education (AACTE) and the Military Child Education Coalition (MCEC). The College of Education also joined the MCEC, a non-profit, world-wide organization, focused on ensuring quality educational opportunities for all military children affected by mobility, family separation, and transition.
Through our award-winning Professional Development School (PDS) model, the majority of our pre-service teachers complete their clinical training in military-connected schools districts. Faculty have produced materials for teachers, including Military-Connected Students in the Classroom, an interactive iBook by Sandy Risberg.
---
Adult Education
Our Adult Learning and Leadership program in the Department of Educational Leadership has a long history of engagement at Fort Leavenworth and Command and General Staff College. A cohort program for the Master's of Adult Education at Fort Leavenworth awarded over 600 graduate degrees to officers at the Command and General Staff College in the past 25 years. In addition to the Master's cohorts, the Adult Education faculty developed doctoral cohorts that included faculty and faculty developers as K-State graduate students at most of the schools located at Fort Leavenworth. A leadership training program, the Command Team Spouse Development Program, a community engagement program developed by faculty was awarded the 2010 Malcolm Knowles Outstanding Program in Adult Education award.
---
Resources for Educators
---
A decision to help preservice teachers better understand the needs of military-connected students grew into a documentary with campuswide, statewide and national implications. The documentary tells the story of seven people – soldiers, spouses, college students and educators – who share their perspectives on the dedication, service, rewards and challenges of being connected with the military.