2013 News Releases
Fall 2013
Seven new graduates honored for excellence, promise as future teachers
Read More
Outstanding work as undergraduates or their potential as future teachers has earned seven new graduates awards. The students received the awards at the college's commencement ceremony Dec. 14 on the Manhattan campus.
Outstanding Undergraduate Student Awards:
Carla Medrano, December 2013 bachelor's graduate in elementary education, College of Education Outstanding Undergraduate Student Award. Medrano,Dodge City, is a cum laude graduate of the university, where she was a member of the Bilingual Education Student Organization; League of United Latin American Citizens; fundraising chair for Kappa Delta Pi, the international honor society in education; and activities chair for Relay for Life. She also was a member of Golden Key, an international honor society, and the National Society of Collegiate Scholars. She received the university's BESITOS Scholarship and she worked as a child care designee before and after school at Amanda Arnold Elementary School in Manhattan. Medrano is a 2010 graduate of Dodge City High School and attended Dodge City Community College. She is the daughter of Eliseo Medrano and Maria Elena Ortiz, Dodge City.
Samantha Shirley, December 2013 bachelor's graduate in business education, College of Education Outstanding Undergraduate Student Award. Shirley, Dodge City, was active in Pi Omega Pi, the national business education teacher honor society, where she is a national student representative through 2015 and was 2012-2013 chapter president and 2011-2012 vice president. She also was president of the Business Education Club from 2011-2012, Relay for Life public relations and online chair from 2010-2013, and a School of Leadership Studies ambassador from 2010-2013. A 2009 graduate of Dodge City High School, she is the daughter of Brian and Suzanne Shirley, Dodge City.
Margaret "Meg" Swagerty, December 2013 bachelor's graduate in social studies education, College of Education Outstanding Undergraduate Student Award. Swagerty, Overland Park, earned many honors at the university, including the School of Leadership Studies Outstanding Civic Engagement Award, College of Education Alumni Scholarship, Tomorrow's Teachers Scholarship, KSU Foundation Scholarship and the Civic Leadership Scholarship. She was a member of Alpha Delta Pi sorority, serving as recording secretary, chaplain and academic tutor; Bible study leader for Christian Challenge; historian for Silver Key, the sophomore honorary; event planning co-chair for Chimes, the junior honorary; and a Johnson County ambassador for the university. She also was in the University Honors Program, served on the College of Education Advisory Committee and was a Lead 212 instructor for the School of Leadership Studies. Off campus, she was a children's ministry intern for the First Presbyterian Church, on the top staff leadership team for Camp War Eagle and was active with Big Brothers Big Sisters and the Boys and Girls Club. A 2009 graduate of Shawnee Mission North High School, Swagerty is the daughter of Daniel Swagerty and Margaret "Peggy" Killam, Overland Park.
Kirstin Keller, December 2013 bachelor's graduate in elementary education, College of Education Outstanding Undergraduate Student Award. Keller, Salina, was a member of the College of Education Ambassadors, Kappa Delta Pi international education honor society, College of Education Council, Kansas National Education Association, International Buddies and the K-State Athletics Student Advisory Team. She was fundraising chair for project EXCELL, vice president of Study Abroad Mentors and chief justice of the Haymaker Hall Governing Board. She was named a Project EXCELL teacher/ambassador, was a Nancy Larson Foundation scholar and Megan Taylor Foundation scholar, and received semester honors from the university for multiple semesters. Off campus, Keller was a court appointed special advocate, or CASA, and was named its advocate of the month for April 2013. A 2009 graduate of Salina High School South, she is the daughter of Kevin Keller and Tisha Keller, both of Salina.
Amanda Ross, December 2013 bachelor's graduate in elementary education, College of Education Outstanding Undergraduate Student Award. Ross, Highlands Ranch, Colo., was a member of Kappa Delta Pi international education honor society, College of Education Council and vice president of the Center for Intercultural and Multilingual Advocacy International Student Learning Organization. She was a member of Kappa Alpha Theta sorority, serving as music chair and Corp Board representative. She received the university's Purple and White Scholarship, Global Scholarship from the office of international programs, participated in study abroad in Quito, Ecuador, and played intramural soccer. A 2010 graduate of Mountain Vista High School in Highlands Ranch, Ross is the daughter of Allen and Beth Ross, Highlands Ranch.
Outstanding Future Teacher Awards:
Nicole McLaughlin, December 2013 bachelor's graduate in elementary education, College of Education Outstanding Future Teacher Award in Elementary Education. McLaughlin, Manhattan, received the Shining Star Award from USD 475, Geary County Schools, in 2010. A 2007 graduate of Junction City High School, she is the daughter of Stephen and Michelle McLaughlin, Washington, Pa.
Alberto "AJ" Vinent, December 2013 bachelor's graduate in secondary social studies education, College of Education Outstanding Future Teacher Award for Secondary Education. Vinent, Miramar, Fla., served as a basketball team manager. A 2009 graduate of Center of Life Academy in Miami, he is the son of Alberto and Linda Vinent, Miramar, Fla.
---
Binieckis presented with award, recognitions
Read More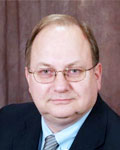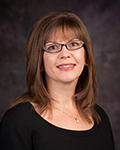 Susan Yelich Biniecki, assistant professor of educational leadership, and Waldek Biniecki, instructor at the Center for Intercultural and Multilingual
Advocacy, were presented with one award and three special recognitions at the Polish Independence Day/Veterans Day event in November in Milwaukee.
They received:
Congressman Clement Zablocki Civic Achievement Award from the Polish American Congress
Certificate of Recognition for Dedicated Service from the consulate general of the Republic of Poland in Chicago
Milwaukee County Resolution Recognizing Civic Achievement from the Milwaukee County Board of Supervisors
City of Milwaukee Resolution Recognizing Civic Achievement from the city of Milwaukee Common Council.
The Binieckis are committed to raising awareness about Central Europe and its role in history, as well as its dynamic economy and acclaimed educational system. Through their international network of connections, the couple secured two exhibits, "The World Knew: Jan Karski's Mission for Humanity" and "Righteous Among the Nations," that were on display at Hale Library this year.
---
Andersen receives doctoral award
Read More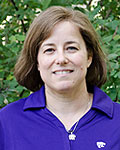 Lori Andersen, assistant professor of curriculum and instruction, received a doctoral student award in November for a superior degree of scholarship from the National Association for Gifted Children, or NAGC, at its national conference in Indianapolis.
Andersen was nominated for the award by Jennifer Cross, assistant professor of research at The College of William and Mary.
"It's a great honor to be recognized for superior scholarship by the national organization in my field," Andersen said. "I look forward to building on my dissertation research at K-State and collaborating with STEM colleagues."
Andersen earned her doctorate from The College of William and Mary then joined the K-State faculty this fall. Her research interests include talent development and science teacher development.
---
Education professor resumes leadership of Center for Science Education
Read More
Jackie Spears, professor of curriculum and instruction, will resume her full-time position as director of the Center for Science Education in the College of Education effective Jan. 1. For more than a year, Spears has served K-State in two capacities dividing her time between the Manhattan and Olathe campuses.
As interim associate dean at the Olathe campus, Spears assisted K-State Manhattan faculty in launching master's programs in horticulture, veterinary biomedical sciences, biological and agricultural engineering, food science and agribusiness with emphasis on animal health. Spears also served as acting chief executive officer from August through September until CEO and Vice Provost Prema Arasu was hired in October.
"The Olathe team benefited tremendously from the breadth and depth of Dr. Spear's many experiences, and we certainly hope to continue drawing on her wise counsel," Arasu said.
Provost April Mason believes Spears leadership was essential to the campus's long-term success.
"Dr. Spears provided leadership and expertise in academic programming at a very critical time as the Olathe campus experienced a leadership transition at its highest level," Mason said. "We are all indebted to Jackie for her leadership and service to Kansas State University."
Debbie Mercer, dean of the College of Education, is grateful to Spears and recognizes the intense commitment this dual assignment required.
"Jackie is an incredibly talented person who commands respect," Mercer said. "Her name is almost synonymous with science, and our state is a better place because she decided to become a science educator. We are so proud of the impact she has made and the relationships she has cultivated through her experience at K-State Olathe, and we are thrilled she is returning to the college to lead the Center of Science Education."
Spears will continue her engagement with the Olathe campus through research and development designed to integrate K-12 education with university efforts to respond to science, technology, engineering and mathematics, or STEM, workforce needs in the greater Kansas City area.
---
Sandy Hook shooting prompts action in College of Education
Read More
On Saturday, December 14, the country commemorated an unthinkable milestone: the one-year anniversary of the school shooting at Sandy Hook Elementary School that claimed the lives of 26 children and teachers.
The College of Education is taking a proactive role by addressing school safety at many levels. Robert Hachiya, assistant professor of educational leadership, recently presented "In the Aftermath of Sandy Hook: Revisiting What Works and What Doesn't Work to Prevent School Violence" at the Education Law Association annual convention in Westminster, Colo.
"There is a body of research that shows what prevents violence in schools," Hachiya said. "We need to not let the discussion get hijacked for political purposes and focus on what really works. As the College of Education, we are the leaders and have an obligation to advocate what we know are most likely to keep teachers and students safe."
Schools can take preventive action by taking some important steps: 1. Building relationships with students. "That's the key element," Hachiya said; 2. Conducting regular safety and security audits, and drills; 3. Having strong anti-violence and anti-bullying programs; and 4. Creating a positive school climate with open communication.
Hachiya said it's imperative to understand the differences between the shootings at Sandy Hook, which was perpetrated by lone gunman Adam Lanza; the shooting at Columbine High School; and the shooting at the movie theatre in Aurora, Colo.
"Adam Lanza was an outsider and that brought a completely different dynamic to the shooting whereas at Columbine it was students from the school who carried out the shooting," he said.
In addition to Hachiya's interest in school safety, two faculty members organized a safety event this fall and more than 100 preservice teachers attended. Lotta Larson, associate professor, and Tonnie Martinez, assistant professor, brought in speakers from the K-State Police Department, weapons safety experts and combative teams. The program addressed issues ranging from evading an attacker to what teachers should do if they find a weapon at school.
"I think the high student turnout was for two reasons: First, there had been an incident of violence on the campus and our preservice teachers wanted information to enhance their personal safety skills," Martinez said. "Second, because schools are a reflection of society, our students know that even the best educational environments may experience events that turn violent, and they will be expected to respond in a reasonable, professional and prudent manner."
---
Mercer and Larson publish book about K-State, fund future K-Staters
Read More
Family, friendship and fun are at the heart of a new book published by two College of Education faculty members who are donating their profits to support scholarships for preservice teachers.
"K-State: An Alphabet Journey Across Campus" was written by Debbie Mercer, dean of the college, and Lotta Larson, associate professor of curriculum and instruction. And it literally covers campus from A-Z.
"As former elementary teachers and literacy researchers, we thought this would be a creative way to promote K-State and literacy," Larson said.
The concept of this book came to life after Mercer visited several Big 12 campus bookstores and discovered many institutions had captured their heritages through children's books.
"I was amazed at the number of books for children, introducing customs and traditions to young readers about a particular school," Mercer said. "As I researched what was available about K-State, I was a little disappointed. Thus, the idea to write one ourselves."
The process started three years ago and included many hours of research. Larson said numerous undergraduate and graduate groups were queried for their input. Groups were given a page with a list of the letters of the alphabet and asked to fill in words they associated with that letter and K-State. The most frequently identified words were used for the corresponding letter in the book, and the background of each page is sprinkled with highest-ranking words.
"We are so grateful to each person who helped make this book possible," Mercer said. "Our greatest hope is that each person who reads this books sees a familiar face or can be reminded of a special day or event on campus and it brings back fond memories of K-State."
The authors' profits will be donated to a scholarship fund for preservice teachers in the college. Copies can be purchased in the College of Education Dean's Office in 006 Bluemont Hall for $20.00.
Books can be ordered online for $19.95 with additional charges for shipping and handling.
Mercer and Larson invite readers to post comments about the book on their Facebook page.
---
Risberg authors e-book about military life, culture
Read More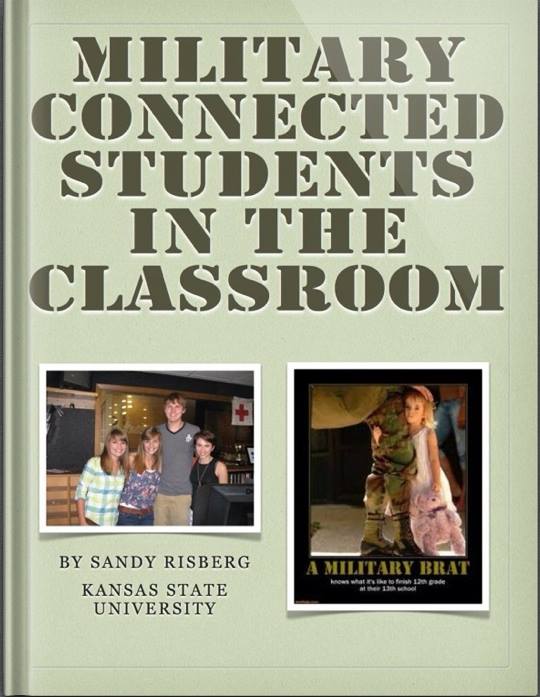 A College of Education instructor has published an interactive e-book that raises awareness about the culture and the social-emotional needs of military-connected students in grades K-12. "Military Connected Students in the Classroom" can be downloaded free on iBooks.
Sandy Risberg, instructor of curriculum and instruction, created the e-book based on her life experience as a military spouse, parent and educator. It is a substantive resource packed with useful information about life in the military.
According to the Military Child Education Coalition, or MCEC, every school district in Kansas — and in the country — has military-connected students.
"This book has the potential to impact military-connected students across the country and world because it is only a click away for teachers," Risberg said. "I would like to thank all of the groups, MCEC among others, who have worked to advocate for this population of students."
Chapters are "The Military Family," "The ABCs of the Military Student," "Building Resiliency in Military Children" and "Classroom Resources." Each contains links to helpful resources and videos.
"Sandy's book strikes at the very heart of everything we are working to accomplish in the college," said Debbie Mercer, dean of the College of Education. "Not only does it address the needs of a specific population of students, it uses the latest technology to disseminate its message to teachers and preservice teachers wherever their classrooms may be."
Risberg joined the college last fall and serves as its representative in the Operation Educate the Educator program. She was instrumental in the production of the college's video "A Walk in My Shoes: Military Life" and in the creation of the Military ED-OPS, the college's initiative to teach faculty, staff, preservice and in-service teachers about the unique needs of military-connected children.
---
Education faculty and staff present at state conference on student affairs
Read More
Several College of Education faculty and staff presented interest sessions at the Kansas Student Affairs Conference in Manhattan. More than 120 practitioners from across Kansas participated in the two-day meeting. Presenters from the College of Education included:
Carla Jones, student life and special education, counseling and student affairs, who served as the planning committee chair for the recent conference, presented the interest session "Senior Student Affairs Officers' Round Table."
Christy Moran Craft, special education, counseling and student affairs, presented "Making Residence Halls and Apartment Communities Accessible to Religious Students."
Grizelda MacDonald, center for intercultural and multilingual advocacy, presented "Study Abroad."
MacDonald and Della Perez, center for intercultural and multilingual advocacy, presented "Acculturation and Study Abroad."
---
Doris Wright Carroll receives cultural competency award
Read More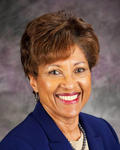 Doris Wright Carroll, associate professor of special education, counseling and student affairs, was presented with the Cultural Competency Award from the Kansas City chapter of the Nation's Voice on Mental Illness at its annual meeting and awards ceremony.
Carroll was selected by a unanimous vote. The organization's awards are given to key people in the community who have had a positive influence in the field of mental health awareness and advocacy.
"This award is meaningful because it is for my work creating community by offering diversity workshops for arts groups," Carroll said. "This recognition is very special indeed."
---
Education faculty present at AEA conference
Read More
The College of Education made an impressive showing at the American Evaluation Association meeting in Washington, D.C. Five faculty and staff presented papers and provided leadership for the organization in a variety of ways.
Linda Thurston, professor and associate dean for research and external funding, presented on a panel with former colleagues and principal investigators at the National Science Foundation. Her paper was "Packaging your proposed evaluation plan for non-evaluators." Thurston also served as co-chair and newsletter editor of the Disabilities and Other Vulnerable Populations Topical Interest Group, or TIG, and webmaster of the Feminist Issues in Evaluation TIG.
Several members from the office of educational innovation and evaluation were also part of the conference. They were Jan Middendorf, director; Cindy Shuman, associate director; Wendi Stark, evaluation projects coordinator; and Valerie York, research associate/evaluator. These colleagues presented "A synthesis project utilizing citation analysis to document a decade of program impact." Middendorf, Shuman and York also presented "Developing a shared understanding of broadening participation research."
Middendorf provided leadership in the International and Cross-cultural Evaluation TIG and will serve as its program chair next year. Shuman is program chair for the Evaluation Managers and Supervisors TIG.
---
Education experts shape content for NBC's Education Nation website
Read More
Two College of Education subject matter experts lent their expertise for content on NBC's Education Nation website, which launched at the Education Nation Summit in New York.
The parent toolkit website was designed to help parents across the country support their child's work in the classroom by tracking academic success and personal growth from kindergarten through high school. Parents now have grade-specific curriculum information and are armed with ideas that add interest to subjects and provide additional teaching resources. The website also offers tips for parent-teacher conferences.
Laurie Curtis and Lori Goodson, assistant professors of curriculum and instruction, contributed to the nationwide project. While designed for parents, Curtis believes this website is also an incredible resource for teachers working with students of all ages. She was initially recruited after being quoted in an article in The Wall Street Journal about parent-teacher conferences.
"NBC interviewed me for the content on the parent-teacher conferences section of the toolkit," Curtis said. "Then they asked me to assist with putting the common core standards for grades 3 and 4 in parent-friendly terms, allowing parents to clearly see what they can do at home to support their child's work in the classroom."
Goodson's role also focused on the Common Core State Standards. She reviewed documents and helped make the language user friendly.
"The National Council of Teachers of English recommended me to NBC as I serve on a number of its national committees," Goodson said. "With my middle- and high school-level teaching experience, NBC asked if I would review language for English/language arts standards for fifth through 12th grades.
"I felt the project was valuable because parents need to better understand the Common Core State Standards as teachers implement them in classrooms and so parents can form a strong partnership with the schools."
---
K-State faculty, academic advisors present at international conference
Read More
Ten Kansas State University academic advisors and faculty members presented at the 37th annual conference of NACADA: The Global Community for Academic Advising Oct. 6-9 in Salt Lake City, Utah.
The conference was attended by more than 2,800 academic advisors, faculty members and academic advising administrators from colleges and universities across the United States as well as 13 other countries. Debbie Mercer, dean of the College of Education, gave the welcome on behalf of K-State at the opening general session of the conference.
Presenting at the conference from K-State were:
Keith Powers, academic advisor in the College of Education, "Academic Advising Assessment Practices: Implications of a National Survey";
Tami Duch, Nancy Habluetzel, Julie Hunt, Angelia Perry and Sheryl Peters, academic advisors in the College of Arts and Sciences, "Advising Full Throttle: 8 Transformational Strategies to Guide First Generation Students to Graduation";
Ken Hughey, professor of special education counseling and student affairs and Dan Wilcox, assistant professor of special education counseling and student affairs, "Taking Your Career Advising to New Heights: A Case Study Approach";
Donna Menke, assistant professor of special education counseling and student affairs and Robert Pettay, instructor of kinesiology, "Elevate Advisor Morale: An Exploration of the Causes of Low Morale and Suggestions for Improvement." Pettay also presented "Motivational Interviewing in Advising."
K-State sent 18 faculty members and academic advisors to participate in the conference, including the 10 presenters.
Mike Holen, professor in the College of Education, was present to recognize the recipient of NACADA's Michael C. Holen Pacesetter Award, which is presented annually to the chief executive officer, provost or chief academic or student affairs officer who best exemplifies a commitment to academic advising. Susie Brubaker-Cole, associate provost for academic success and engagement at Oregon State University, was the 2013 award recipient.
NACADA promotes and supports quality academic advising in institutions of higher education to enhance the educational development of students, and provides a forum for discussion, debate and the exchange of ideas pertaining to academic advising through numerous activities and publications. The 12,000-member international association based at K-State also serves as an advocate for effective academic advising by providing a consulting and speaker service and funding for research related to academic advising.
---
Holocaust exhibit displayed at Hale Library
Read More
"The World Knew: Jan Karski's Mission for Humanity" was on display on the second floor of Hale Library during the month of October. Vice Consul Konrad Zieliński took part in the official opening ceremony.
The 20-panel exhibit, which was recently on display at the United Nations in New York, is dedicated to Karski who was a diplomat, Polish WWII resistance fighter and eyewitness to the German Nazi atrocities in the death camps. He single-handedly tried to stop the Holocaust by reporting to the West asking the Allies to take action while there was still time to save millions of lives. Through Karski, the Underground Polish State implored the West to take action and save Jewish citizens of the Republic of Poland, who were being exterminated in German concentration camps in occupied Poland. President Obama awarded Karski with the Medal of Freedom posthumously in May 2012.
The exhibit was created by the Polish History Museum in Warsaw and was made available by Poland's Ministry of Foreign Affairs and the Jan Karski Educational Foundation.
The College of Education, K-State Libraries, the School of Leadership Studies and the Kansas Polish American Congress coordinated campus efforts for this educational exhibit. Susan Yelich Biniecki, assistant professor in the College of Education's department of educational leadership, spearheaded this effort.
"Holocaust education is critical so that not one generation goes by without understanding this atrocity," Yelich Biniecki said. "Through the life of Jan Karski, this exhibit demonstrates the importance of social justice and the seemingly ever-present need to address inequality and human rights abuses."
Lori Goetsch, dean of K-State Libraries, and Debbie Mercer, dean of the College of Education, greatly appreciate the Consulate General of the Republic of Poland's interest in K-State and continued sponsorship and involvement on campus. Both are especially grateful to collaborate on another meaningful exhibit.
The exhibit's formal opening ceremony coincided with a performance of "Life in a Jar" in the Little Theatre at the K-State Student Union. The play is based on the life of another unsung hero during the Holocaust, Irena Sendler.
Sendler, through an underground network, saved the lives of 2,500 children from possible death by smuggling them out of the Warsaw Ghetto. Her work may have been lost to the ages if not for Norm Conard, a teacher in Uniontown, Kan., and four of his students.
Conard developed a project-based learning assignment about the Holocaust. His students read one sentence about Sendler in a national magazine and were intrigued, but virtually no other information existed about her work. They wrote "Life in a Jar," titled after the fact Sendler hid the names of the children she'd smuggled in jars buried in her yard. Their work ultimately inspired a book, a Hallmark Hall of Fame movie and Sendler's nomination for the Nobel Peace Prize in 2007.
The College of Education produced a video about Irena Sendler titled "The Irena Sendler Project Documentary: Life in a Jar," which can be viewed online.
---
Dissertation provides faculty with six technology tips
Read More
A College of Education dissertation has been condensed to six salient points designed to help faculty improve the use of technology in their courses, especially for first-year, nontraditional and transfer students.
The dissertation written by Sara Kearns, associate professor and head of the undergraduate and community services department, uncovered issues that could make a significant difference in student success, particularly in the first few weeks of class.
Christy Craft, associate professor of special education, counseling and student affairs, served as Kearns' major professor.
"Sara's research provides us with a number of practical recommendations that we can implement in our efforts to use information and communication technology in ways that will meet the academic and social needs of our first-year students," Craft said.
Following are the six tips:
Don't assume students are already familiar with K-State Online, the university's website for interactive classrooms.
Kearns' research showed that students quickly absorbed K-State Online into their academic lives once they were shown how to access it. "Students expressed stress and frustration because they were repeatedly told how important it was, but not taught how to access it. Compounding this was that they were not always sure of the differences between the university's overall website, iSIS and K-State Online," Kearns said. "If we can all take two minutes of class time early in the semester and show students where to log in, we could remove an unnecessary barrier." Also interesting — and confusing for students — was how many different ways K-State Online is referenced across campus. For instance, Kearns' study revealed it is referred to as K-State Online, K-S-O-L, Kay-Saul, and Kay-Sole.
Provide models for your students when describing your expectations for their use of technology.
"If you tell students that you expect them to be professional when they email you, provide examples of what a professional email looks like, including your own emails to students," she said. "Yes, they do pay attention if you've told them it's important."
Be as explicit as possible when explaining to students what technologies will be needed for your courses and what options are available if they do not work.
"Tell students how and when to contact you because of technical problems and discuss options," Kearns said. She suggested encouraging students to take timed exams online using Ethernet cables or at a computer lab that is hardwired for the duration of the exam. In addition, share important contact information for the IT Help Desk, the ResNet Help Desk and Ask a Librarian. Even when the desks are closed, the FAQ sections of websites for these services can be helpful for stressed students.
Take a "universal design" approach to the technologies used in your classroom.
"If you believe that basic information about a technology will help one or two students in class, assume it will help all of your students," she said.
Reconsider placing complete class notes online.
"Multiple students indicated the temptation to skip class was greater when they knew the notes were online," Kearns said. "Faculty may want to consider posting bare outlines that may include only key terms and elaborate on those during class or creating notes with blanks that students fill-in during class."
Understand the ways first-year students use technology to build relationships.
Students turn to technology to create or maintain personal relationships and expressed preferring to hangout in person to socializing online.
"Encourage returning students to use social media to help new students meet new people," Kearns advised. "One student raved about how close residents of her floor were, especially after a retuning student created a Facebook page where residents could invite others to events they were attending. Another student kept in contact with her floor mates via a Twitter hashtag." For more information about the study, please contact Kearns at skearns@k-state.edu.