Military Initiatives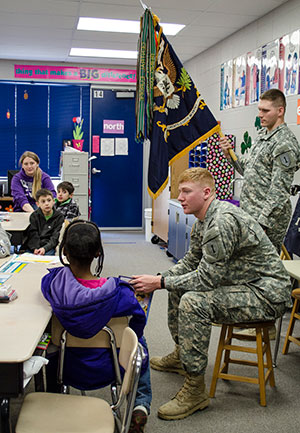 The College of Education at Kansas State University is committed to preparing our students and faculty to provide quality and relevant education for military personnel, veterans and their families. Issues related to military-connected learners are being addressed daily by the faculty of the College of Education who educate teachers, principals, superintendents, adult educators, school counselors, special educators, and postsecondary advising and student personnel services staff.
---
College-wide Military-connected Learner Initiative
The college is making a significant contribution to the education of military-connected students and veterans and is impacting the education of our undergraduate and graduate students in their knowledge of and appropriate pedagogy and practice for veterans, members of the military and their families. Thanks to a University $6,000 Academic Excellence Fund Award, the College of Education developed a college-wide Military and Veterans Educational Initiative to organize the various military-related activities across the college and to plan for a holistic and sustainable approach to working with our students. The goal of the initiative is to build capacity in the K-State College of Education to:
Prepare pre-service and in-service school personnel to serve military-connected students and families;
Meet the needs of our military-connected COE undergraduate and graduate students;
Contribute to the knowledge base about education and military-connected students and families; and
Collaborate with other military/veteran initiatives across campus.
This college-wide initiative was built on a strong foundation of decades of involvement with military-connected graduate students by the Adult Education program at Ft. Leavenworth and with USD 475 Geary County schools on Fort Riley, a close neighbor of K-State. The initiative is unique because it represents a college-wide approach that involves faculty, staff and our approximately 3,000 students, almost half of which are graduate students. Each of the three college departments has ongoing military-related activities and programs.
---
Teacher Preparation
The College of Education became one of the first 100 universities to join Operation Educate the Educators, a nationwide Joining Forces initiative follows guiding principles from the American Association of Colleges for Teacher Education (AACTE) and the Military Child Education Coalition (MCEC). The College of Education also joined the MCEC, a non-profit, world-wide organization, focused on ensuring quality educational opportunities for all military children affected by mobility, family separation, and transition.
Through our award-winning Professional Development School (PDS) model, the majority of our pre-service teachers complete their clinical training in military-connected schools districts. Faculty have produced materials for teachers, including Military-Connected Students in the Classroom, a new interactive iBook by Sandy Risberg.
---
Adult Education
Our Adult Education program in the Department of Educational Leadership has a long history of engagement at Fort Leavenworth and Command and General Staff College. A cohort program for the Master's of Adult Education at Fort Leavenworth awarded over 600 graduate degrees to officers at the Command and General Staff College in the past 25 years. In addition to the Master's cohorts, the Adult Education faculty developed doctoral cohorts that included faculty and faculty developers as K-State graduate students at most of the schools located at Fort Leavenworth. A leadership training program, the Command Team Spouse Development Program, a community engagement program developed by faculty was awarded the Malcolm Knowles Outstanding Program in Adult Education award in 2010.
---
School Counseling
Faculty in the Department of Special Education, Counseling and Student Affairs have developed a Certificate of Competence in Counseling Military-connected Students for school counselors and candidates in counselor education graduate programs based on the theoretical and research framework and best practices in parent /family counseling, school consultation, and education strategies and interventions. The learning modules are being designed to prepare school counselors with skills to address the MCEC and ACCTE principles and the needs of military-connected students. Upon mastery and demonstrated skill of the content in the online learning modules, counselors will earn a Certificate of Competency in Counseling Military-Connected Students.
---
2016 Train the Trainer to Educate the Educator Workshop
On Friday, March 11, 2016, the K-State College of Education Military and Veterans Education Initiative offered a "Train the Trainer to Educate the Educator" workshop on the Manhattan Campus. The workshop addressed topics of concern for educators dedicated to ensuring that Kansas leads the world in the success of each student. Attendees were provided curriculum materials and resources that correlate with the KSDE Kansans Can redesign vision. These tools for educators were designed to provide military-connected students with the academic preparation, cognitive preparation, technical skills, and employability skills needed for success.
Each presentation was recorded and is available here for use by school leaders and educators for ongoing professional development.
National Guard: A Versatile Force
BG (Ret.) Eric Peck, Kansas Army National Guard
(Opening Remarks by Dr. Linda Thurston and Dr. Jane Fishback)
21st Century Skills in the Military and Veteran Connected Child
Sandy Risberg, Instructor, Curriculum and Instruction, K-State College of Education
Addressing Unique Needs of Military Connected Children
Dr. Judy Hughey, Associate Professor, Counselor Education and School Counseling, K-State College of Education