Philanthropy Donor Stories
'Lifetime' is Just the Beginning
Bill and Marilyn Taylor are doing precisely what their daughter, Megan, would have done with her life given the chance: help people.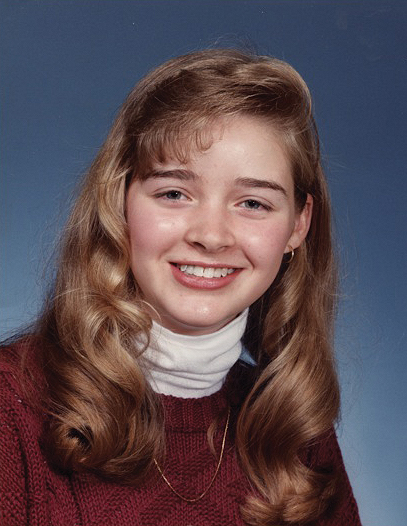 The Taylors created the Megan E. Taylor Memorial Scholarship for Study Abroad after Megan's unimaginable passing. She was in a bicycle accident in Germany while participating in a high school band exchange program in 1992. Since its establishment in 2002, the couple's scholarship has funded the airfare and lodging for 120 K-State pre-service teachers to travel to China, Paraguay, Guatemala, and Mexico. "We believe having an international experience is life-changing for people," Marilyn said.
Megan was a happy child who was reserved around strangers but a "chatterbox" around friends and family. "As a child, she smiled a lot," Marilyn said. Her mom shared a sweet story about a time when she stopped smiling. It was such a striking change it prompted a visit to their pediatrician. When Marilyn reported Megan's clinical sign – the lack of a smile – it evoked an are-you-crazy glance from the doctor. Megan was diagnosed with an ear infection.
As a teen, Megan loved ballet, playing the flute and piano and was very spiritual. "She really enjoyed life and
being young," Marilyn said. "Some kids aren't that way, they want to be older."
Megan's varied interests led to an array of experiences, and Marilyn explained how those experiences transformed Megan. In fact, after the trip to Germany, Megan planned to depart for Mexico on a mission trip. "She had a passion for doing service for others," Marilyn said. "She was on the verge of becoming something very special." More special than she had already demonstrated to those who knew her.
But fate interrupted those plans. Although Megan's life was taken, her spirit inspires others, including her parents. Bill and Marilyn courageously replaced darkness with light in the forms of generosity, kindness and open hearts and transformed the vitality of Megan's spirit to broaden scholarly experiences. "To me, it's a beautiful way to remember someone by helping someone else," Marilyn said.
Nearing the 20th anniversary of Megan's passing, the scholarship and more specifically contact with the students realizing their daughter's passion for service is a source of joy for the Taylors. "We say some of the happiest days of our lives now are when we have the chance to meet some of these students," Marilyn said. "It is so exciting for us to get cards and letters. So many (students) tell us that it was a life-changing experience. We hope it will last for a lifetime." Or, as we learned from Megan, much longer.
---
Marching to Success
A quarter-million dollar gift to the Kansas State University Foundation will benefit students in The Pride of Wildcat Land, K-State's phenomenal marching band.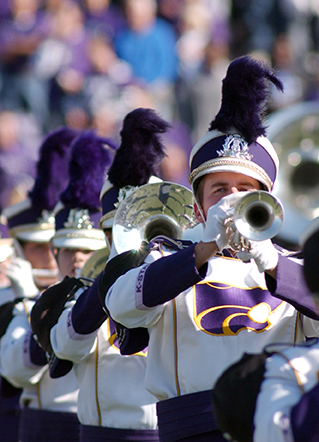 The gift is a bequest in a donor's estate plan and creates three scholarships for students in the marching band: one scholarship supports clarinet players in any academic college; the second scholarship supports students in the College of Human Ecology; and the third scholarship benefits students in the College of Education planning a career in music education.
The scholarships are permanently endowed, meaning the investment will earn interest, and awards will be made annually to students who meet the criteria outlined in the Memorandum of Understanding. The donor, a native Kansan and retired schoolteacher, has asked to remain anonymous.
Frank Tracz, music professor and marching band director, said the scholarships will help students remain in the band. "The number one reason upper class students leave the band is finances," Tracz said. "Scholarships are critical to retaining experienced band members. Scholarship allows students to participate in campus activities like marching band rather than work one or more jobs. As with any team, experience produces a better outcome."
The donor played in the K-State marching, pep and concert bands, earned a degree from the College of Human Ecology and taught in a central Kansas school district. The scholarships combine her passion – marching band – with her educational background and teaching career. "A teacher never quits teaching," she said. "And these scholarships are one way I can keep supporting students."
And once again, the educator is educating and modeling how Wildcats can make a make a difference. "I think more people would donate to the band if they knew that many juniors and seniors have to leave the band and get jobs," she said. "It's easy to take the band for granted because they are always there. But being good doesn't just happen. It takes work and commitment and money, and that's the power of an endowment – it will support these dedicated students for years to come."
Tracz said 75 percent of the band represents majors other than music, and the 2012 band includes 380 members, including 145 freshmen. "These scholarships provide a permanent legacy to a terrific friend of K-State and our marching band," Tracz said.
---
Young Teacher's Legacy Perpetuated through Scholarship
Dixie and Mike Aarstad fund scholarship in daughter Krystal's name through a cash donation to the Kansas State University Foundation.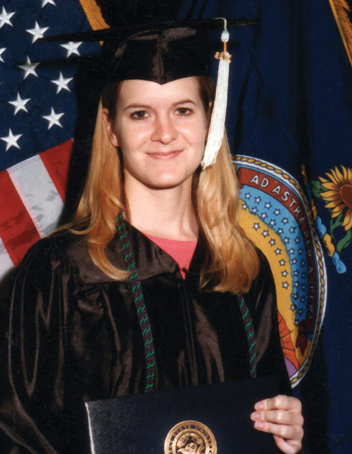 Graduation is supposed to be just the beginning. But within three short years of that achievement, joy turned to sorrow for one K-State family, and creating a scholarship became a powerful antidote for their heartache. Krystal Aarstad was a secondary education math major in the College of Education. She graduated in 2001, the day after her older brother Richmond Aarstad of Meriden, Kan., graduated from the College of Veterinary Medicine. "That was a good weekend for us," Dixie Aarstad said of her children's graduations. That occasion brought the family count up to three K-Staters including Dixie's husband, Mike.
The young Aarstad family had moved frequently due to Mike's job with the railroad. When Krystal was 5, the family moved to Newton, Kan., and she was the only one of the three Aarstad children who attended K-12 in one school district. Krystal loved Newton. Dixie believes Krystal's happy days at Newton High School, where she was a diver and in gymnastics, became the springboard for her career in education. "She saw going into education as an extension of that atmosphere," Dixie said.
Krystal was a committed student and whose friends were "very, very important to her," Dixie said. Just how important was her education? Krystal was a member of three honor societies upon her graduation from K-State: Golden Key National Honor Society; Kappa Delta Pi International Honor Society in Education Iota Xi Chapter and Phi Eta Sigma, KSU Chapter.
Krystal accepted a teaching position at Buhler High School and bought a two-bedroom starter home in the central Kansas town. She had no experience with cheerleading, but cheerfully accepted a coaching assignment. Cindy Couchman (Class of '90 and 2009 Kansas Teacher of the Year) was Krystal's friend and mentor at Buhler High School. "Krystal was a great math teacher," Cindy said. "I immediately admired her organizational skills and ability to relate to students in class. These attributes were really obvious as a cheer coach. She was able to balance discipline and compassion, and had a sense of humor the girls loved." The girls may also have gravitated to Krystal because she seemed so much like them. That's because she was. Dixie said Krystal was at times mistaken for a member of the squad and directly asked where the coach was. "The inside joke was if one of the girls couldn't make it, they'd just give Krystal a uniform, "Dixie said.
Krystal would often spend weekends with lifelong friends 30-plus miles away in Newton, the epicenter of her life. So it was no surprise Krystal was heading to a girlfriend's house for the weekend in February 2004. "The weather was bad," Dixie explained of their last conversation. "I said, 'Krystal, please don't do that, and she said, 'I'll be fine, Mom.'"No one knows exactly what caused the one-car accident on her way home. What they know is it was an icy day, and she was killed instantly when her car slid off the road into a concrete abutment on Dutch Ave., near the Harvey-Reno county line. "We were told a nearby resident heard the crash and looked out and saw a couple of dogs running up the culvert," Dixie said. "Krystal loved animals, and we think she hit the brakes to avoid the dogs, and that was just enough to send her sliding."
"The scholarship was my husband's idea, and I'm grateful that he thought of it," Dixie said. "It was part of her life insurance. Parents don't want to benefit from the loss of their children." Mike and Dixie reflected back on Krystal's college experience, which served as a guiding force in drafting the Memorandum of Understanding. They chose to award the scholarship to juniors and seniors because: juniors are most likely committed to the major at that point; and seniors because they remembered the challenges Krystal faced in trying to juggle classes, homework, student teaching, a part-time job and the expenses of a brand new professional wardrobe.
"I think Krystal would be thrilled about the scholarship," Dixie said. "We're just a K-State family. I think she would be proud." Cindy could not agree more. In fact, their collegiate heritage was something that brought them together. "We had a lot in common, especially our love for K-State," Cindy said. "She even named her cat Riley (county) after the Manhattan/KSU area! Krystal may have originally been a Newton Railer, but she was forever a Wildcat."
Krystal's love of K-State and her parents' love for her are what led to the creation of the scholarship. Dixie explained the importance of preserving Krystal's memory with six short but powerful words: "You never want your child forgotten."
---
Doris Wright Carroll Multicultural Technology Award
Doris Wright Carroll, K-State associate professor in special education, counseling and student affairs, recognizes the importance of a multi-cultural campus and has taken an active role to enhance opportunities for K-State students from diverse backgrounds.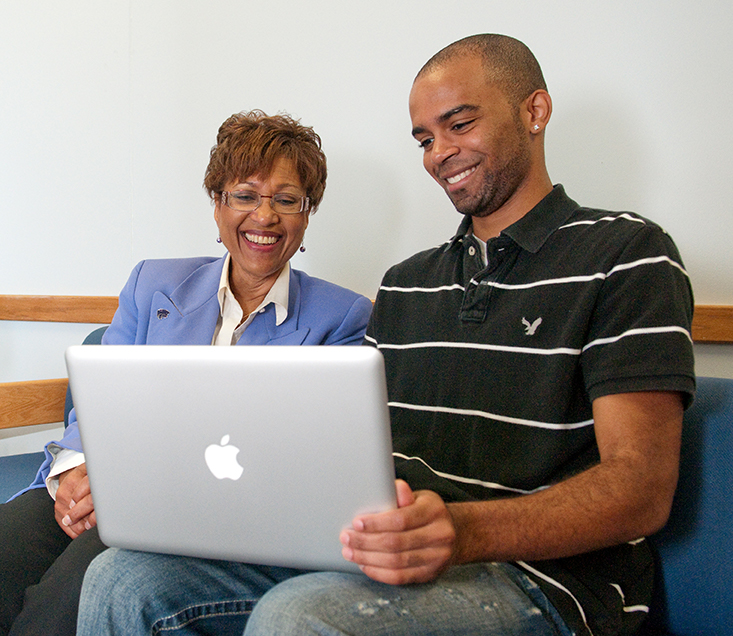 Ten years ago she and her family created the Lawrence G. Wright Scholarship in celebration and recognition of her father's diversity work with the Santa Fe Railroad in Topeka. This award has been given to an undergraduate multicultural student every year since 2002. In 2011, Carroll once again enhanced scholarship opportunities for multicultural students in the college by establishing the Doris Wright Carroll Multicultural Technology Award, which provides the Lawrence G. Wright scholar with a new laptop to aid in their academic pursuits.
Johnathan Lynk, a junior from Olathe, Kan., studying secondary education with an emphasis in social studies, became the first to receive the new technology award. "I couldn't be more thankful for this award, which allows me to be a lot more mobile as a student than I ever was before," Johnathan said. "Not only will I have a new laptop to utilize during classes and lectures to take notes and research, but the latest software and programs will set me up for success in future projects and presentations."
Carroll, who has been on staff at K-State since 1999, established the multicultural technology award in response to a recognized concern that multicultural students often come from families who are unable to afford a computer for their children. "This scholarship answers a practical need by giving students a computer to support their teacher education preparation," Carroll said. "It is a simple act that propels their learning through technology in immeasurable ways."
"Knowing and working with technology is such a vital part of the classroom and the world," Johnathan said. "That someone wants to invest in my success here at K-State makes me feel important, re-energized, and ready to take on another year at K-State full of challenges and opportunities."
---
Philanthropist Finds Ideal Way to Provide for Family
and Alma Mater
Cheryl McVicker Lewis created a scholarship for Kansas State University College of Education elementary education students, funded through life insurance and her estate plan.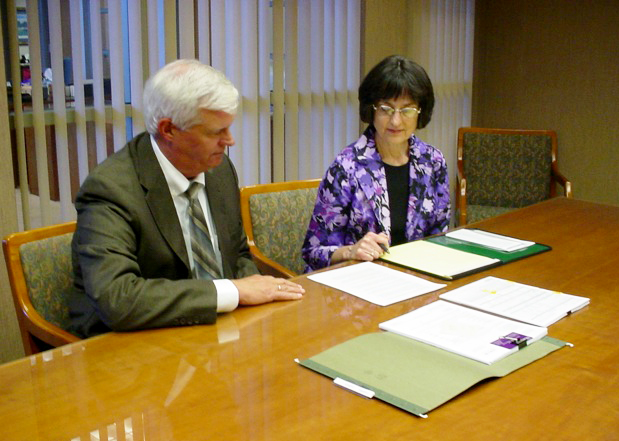 If you could make a charitable gift to the College of Education (COE) several times larger than your out-of-pocket investment, would you? Here's how one K-Stater did it with life insurance. Cheryl McVicker Lewis (Class of '69) created a scholarship in October 2009 and funded it through her estate plan. "I didn't have to have any money to set up the scholarship," she said. "I just had to go through the process with the College of Education development director to establish it, and that was very simple. I identified the assets I wanted to fund the scholarship, which were two annuities, and named the KSU Foundation as beneficiary."
Lewis has made annual contributions to the KSU foundation for many years then decided to designate these gifts to her newly created scholarship. This will allow her scholarship to be awarded when the expendable balance reaches a specific amount, allowing her the important opportunity to meet the scholarship recipient.
A conversation with her financial advisor, Tony Walenz with Central Investment Services in Hutchinson, Kan., opened yet another door for giving: life insurance. "It is a great option for people who want to give a gift but don't think the gift is big enough," he said. Kent Sedlacek, KSU Foundation director of gift planning, explained a universal life insurance policy, like the one Lewis purchased, in broad terms has two distinct financial advantages. If the KSU Foundation is the owner and beneficiary of the policy, the annual premium is tax deductible, he said. Since the university is willing to wait, a life insurance gift magnifies the value of the gift, and there is no financial erosion of the asset. Walenz believes there is a third advantage for K-Staters. "It is a mechanism to take care of both worlds," he said referring to taking care of family members and institutions that are meaningful to the donor.
This was important to Lewis. "I still have provisions for family through my estate plan," she said. "I attended K-State and had a wonderful experience there. Because I have such good feelings about K-State and am passionate about elementary education, I wanted to help a student who shares my interest. The proceeds from the life insurance policy are designated for my scholarship."
To ensure Lewis achieved her goal, Lewis, Kramer, Walenz and Sedlacek met to address the intricacies of her gift. Premium payments were discussed, and Sedlacek's expertise revealed another advantage for Lewis, this time related to premium payments. Turns out there are actually several methods donors have available to handle payments for these policies, annual, 10-year and single-premium.
Because of this information, Lewis was able to make a one-time premium payment and save thousands of dollars in premium payments. And of course, the premium payment was tax deductible. "I was just trying to find the most economical way for Cheryl to meet her objective," Sedlacek said. "This ended up being the best solution for her because it further reduced her out-of-pocket expense."
Walenz said life insurance policies are ideal options for people who are in reasonably good health into their 50s and early 60s. "A $5,000 or $10,000 premium payment could be multiplied many times over by using life insurance as an endowment vehicle," Walenz said. He also suggested that people consider gifting policies that are paid up. "All you have to do in a situation like that is contact the KSU Foundation and sign some paperwork."
Lewis was pleased but not surprised at the ease of these transactions based on all the professionals involved.
---
Abel Frederic, Senior Director of Development
785-532-7586 or abelf@found.ksu.edu