Troops to Teachers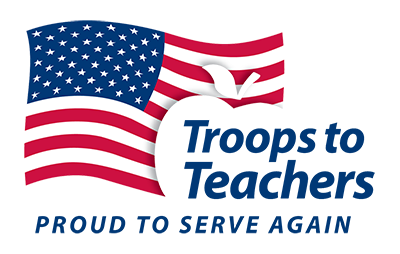 The Kansas Department of Education and Kansas State University have partnered to provide services for the Department of Defense Troops to Teachers program which provides eligible military members and veterans with counseling, employment facilitation, and financial support services to help the transition from military service to employment as K-12 teachers.
Benefits of the program include:
$5,000–$10,000 Bonus and/or stipend for eligible participants
Eligible for an additional $11,500 in funding for eligible participants (Kansas program)
12-months to teaching for college graduates (Master of Arts in Teaching)
24-months to teaching for undergraduates with prerequisites (Elementary Education Bachelor's Degree)
100% online including field experiences
Mentoring by military veteran from admission to employment
Teaching certification testing and job placement assistance
Degree Programs Available for Troops to Teachers Participants
Elementary Education Bachelor's Degree

Service members and veterans without a bachelor's degree may be eligible for this online program. Individuals with an associate degree can complete the program in as little as two years.
Master of Arts in Teaching

Service members and veterans with a bachelor's degree may be eligible for this 12-month online program, designed for those entering teaching from another field.
Eligibility
All current members of the United States Armed Forces and former members who have retired or separated with an honorable discharge are eligible to apply for Troops to Teachers assistance.
Please Note: The Troops to Teachers services are available through K-State as a Troops to Teachers sub-grant recipient, regardless of the academic institution or certification program you choose to attend.
How to Apply
Begin by applying to the program on the Troops to Teachers website. The program office will inform the Kansas program of your application and acceptance into the program. Then apply to the teacher education program of your choosing. Once you have been accepted by both Troops to Teachers and an accredited teacher preparation program, you are automatically enrolled in the Kansas Troops to Teachers.
---
Tuition Information: See the Cashiers and Student Accounts website for tuition and fee schedules.