School Counseling Master's Degree
Accredited by the Council for the Accreditation of Counseling and Related Educational Programs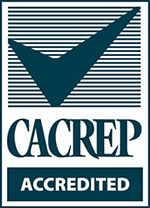 The M.S. in School Counseling program is accredited by the Council for the Accreditation of Counseling and Related Educational Programs (CACREP). It is a 48-hour program designed to prepare dynamic, professional school counselors to be team leaders who implement comprehensive school counseling programs that are integral to the total educational system. School counselors are taught by award winning faculty in coursework designed to support students' achievement and learning and their academic, career and social/emotional development. The school counseling program may be completed in 24 months with a combination of online and on-campus (Manhattan and Olathe) coursework.
Additional program information can be found on the M.S. Program Fast Facts Sheet (PDF).
Course Delivery:
Courses are delivered from the Manhattan campus to Olathe via videoconferencing; some courses available Online
Credits: 48 hours
Tuition Information: See the Cashiers and Student Accounts website for tuition and fee schedules.
→ Start the Application Process
For more information about the program, call 785-532-5541 or email cjwalker@k-state.edu.
---
Student Learning Outcomes
Demonstrates knowledge of the models of school counseling programs.
Demonstrates the ability to apply school counselor roles in consultation with families, P-12 and postsecondary school personnel, and community agencies.
Demonstrates the ability to apply and adhere to ethical and legal standards in school counseling.
Demonstrates the ability to apply strategies to promote equity in student achievement and college access.
Demonstrates the knowledge and skill of social/emotional mental health counseling in school settings.
Scholarships Available
→ Riegel Family Scholarship in School Counseling Online Application
→ Francis and Phyllis Sanders Scholarship in School Counseling Online Application
Additional Information and Resources
---
Curriculum – 48 credit hours
Core Requirements (27 credit hours)
Research and Appraisal Requirements (9 credit hours)
Clinical Requirements (12 credit hours)
EDCEP 887 – Counseling Internship - elementary and secondary level
(6 credit hours total over 2 semesters)

The counseling internship will consist of 600 clock hours under weekly supervision of a licensed school counselor and counseling program faculty member. The student will attend class for group supervision and provide at least 240 clock hours of direct service in the school setting. Included activities are individual counseling, group work, developmental classroom lessons, and consultation.
The student will earn a total of 6 credit hours of internship over two semesters. Students are required to have liability insurance coverage during the Practicum and Internship. The parallel pathway option is required for all students who do not hold a professional teaching license.
The parallel pathway licensure option requires additional school field experiences and activities over two semesters as part of the graduate program. See Dr. Judy Hughey to develop an individual plan.
A professional portfolio is developed during the program and submitted for final review during the final semester of one's program. A master's comprehensive written exam is completed during the final semester of one's program. A portfolio rubric and format guidelines are provided throughout coursework.
Curriculum Objectives
The program's curriculum is designed to equip future school counselors with the knowledge and tools that will help them navigate the numerous milestones that students often experience throughout their K-12 career.
Curriculum Topics
College and career readiness
Social/Emotional development
Substance abuse
Grief and loss counseling
Achievement gaps
Healthy relationships
Leadership and advocacy
Success strategies for all students
Trauma and crisis management
Character education
Facilitation of career development
Promotion of academic achievement for all
Collaboration with business and community
Consultation with teachers and parents
Suicide awareness and prevention
Classroom behavioral issues
Enhancement of resilience, grit and work ethic
Admission Requirements
Admission to graduate study is granted by the Dean of the Graduate School upon the recommendation of the faculty in the graduate program. Applicants seeking admission to this degree program must submit the information noted below. Before starting the online application, gather all information and documents for all of the admission requirements so that they can be uploaded into the application system. All materials must be received before review will begin.
Completed Online Graduate School Application through CollegeNet.
(Follow the online prompts for completing the application process.)
Application Deadlines

U.S. Citizens and Permanent Residents: Applications are accepted throughout the year.
International Students: The online application, application fee, test scores, transcripts, financial documents and all required application materials need to be submitted by the following dates:

January 1 for fall (August) enrollment
August 1 for spring (January) enrollment
December 1 for summer (June) enrollment

Graduate School Application Fee

Domestic Students: A $65 application fee is required for all domestic students; the application will not be processed without this fee. The fee can be paid by credit card when completing the online application.
International Students: A $75 application fee is required; the application will not be processed without this fee. The fee can be paid by credit card when completing the online application.

Official Transcripts

You must upload into the online application system a scanned copy (PDF preferred) of the official transcript(s) from each college or university where you received your bachelor's degree(s) and completed any post baccalaureate course work or degrees. Transcripts become part of your records at Kansas State University and cannot be returned. Please be aware that printouts from university student portals are not considered a copy of your official transcript.
If you are admitted, you will be required to submit an official transcript for GPA and degree conferral verification from the institution(s) where you received your degree(s) and completed any post-baccalaureate credits.
Students whose transcripts are not in English must furnish a translation by an appropriate authority. Failure to list any colleges or universities attended may result in dismissal from the university.
For consideration for regular admission, applicants must have a 3.0 grade point average (GPA) in their junior and senior years of the bachelor's program. Those with GPAs between 2.65 and 2.99 may be considered for probationary admission if it can be demonstrated that there is potential for success in the graduate program. This potential is demonstrated, in part, on the basis of results from the Graduate Record Exam (GRE) or the Miller Analogies Test (MAT).

Statement of Goals and Professional Experience

You must upload into the online application system a 1-2 page, double-spaced paper that includes the following information:

Career and professional goals and aspirations, and how being accepted to the program will benefit the goals and aspirations;
The reason for interest in seeking the master's degree in school counseling;
Evidence of motivation, leadership, and strong work ethic; and
Professional experiences including advocacy involvement and multicultural proficiencies that support your application.

The paper is to be well written and thoughtfully presented. For resources to help writing the paper, see the Purdue Online Writing Lab (OWL).

Recommendations

Three recommendations are needed from college or university educators and/or colleagues or supervisors who are qualified to address your professional skills including analytical and critical thinking processes and written and oral communication skills. Recommendations should also address the ability to work with others, form effective culturally relevant relationships, and present a professional demeanor. Enter the names and email addresses of those submitting recommendations into the appropriate area in the CollegeNet online application.

A Professional Resume or Vitae

Upload into the online application system a professional resume/vitae that includes previous academic degrees, past and present employment, professional experiences including leadership, multicultural, advocacy, and other pertinent information.

An Interview

An interview with faculty members in this program may be requested before an admission decision is made.

English Language Proficiency

To demonstrate competence in the English language, an official report of scores on the Test of English as a Foreign Language (TOEFL), International English Language Testing System – academic exam (IELTS) or Pearson Test of English (PTE) must be sent to Kansas State University for all applicants whose primary language is not English. Enter your scores in the online application and upload the report of your scores.
Learn more about English proficiency requirements
International applicants must meet the same academic standards for admission as those required of domestic students. When applying for admission, international applicants must provide an Affidavit of Financial Support and documentation of English language proficiency. Detailed information about these issues is provided at the Graduate School's International Students web page.
---
School Counselor Licensure
Initial Licensure
Students who want to apply for the Kansas State Department of Education (KSDE) school counselor license should complete the appropriate KSDE license application. See the School Counselor Endorsement web page for licensing information.
After completing required coursework, applicants for the initial license must also meet the following KSDE requirements:
Hold a currently valid Kansas initial teaching license OR have successfully completed the parallel pathway requirements during the master's program. The individual seeking a license through the direct entry (parallel pathway option) completes additional clock hours of field experiences and other activities as discussed in coursework and in the Counselor Education Handbook. Parallel pathway activities do not extend time in the program or cost a student additional credit hours.
Complete the master's degree in school counseling with a cumulative grade point average of 3.25.
Complete the Praxis exam for Professional School Counselor (test number 5421—computer version) with a score of 156 or higher. See the ETS website to register for the Praxis exam. To have your score sent to Kansas State University, enter code # 6334 when registering for the Praxis.
Have recent teaching experience or coursework (i.e., at least one year of teaching or 8 credit hours within the last six years).
Provisional Licensure
An individual with a professional teaching license may be granted a provisional counseling license if a minimum of 50% of the counseling coursework is completed and the individual has a counseling position. See the Licensing and Endorsement Assistance web page for more information.