Go Teacher Program
Summer 2012 marked the beginning of a grand adventure and partnership forged by Kansas State University, Ecuador's Ministry of Education, and SENESCYT, Ecuador's governing body of higher education. The Go Teacher program, as envisioned by the Ecuadorian president, Rafael Correa, is designed to prepare 3,000 educators to be highly qualified teachers of English to students who are learning English as a second language. The overarching participant goals of the Go Teacher program include:
Interact in an intensive English learning environment situated in a native English-speaking context
Achieve advanced levels of English competency to support their teaching of English to students in Ecuador
Gain the knowledge and skills needed to be highly effective teachers of English
The initial iteration of the Go Teacher program brought 87 dedicated teachers from Ecuador to participate in 10 weeks of instructional programming at KSU, through the leadership of the Center for Intercultural and Multilingual Advocacy (CIMA) in the College of Education and the English Language Program.
Based on the enormous success of the summer pilot program, Kansas State University was selected as the lead institution for the Go Teacher program. An additional 60 students arrived at KSU in August 2012 to begin their 9-month professional development program. In January 2013, K-State began collaborating with partner institutions to ensure that additional cohorts of Go Teacher participants received high quality pedagogical preparation as well as support for their own English language development. Together, the following universities have welcomed participants from Cohorts 3, 4, 5, and 6 for 7-month programs at their respective institutions:
Kansas State University (Manhattan, KS): 348 scholars
New Mexico State University (Las Cruces, NM): 226 scholars
Northern Illinois University (DeKalb, IL): 37 scholars
University of Kentucky (Lexington, KY): 146 scholars
Valparaiso University (Valparaiso, IN): 154 scholars
To date, 1,083 teachers have received TESL programming developed by K-State through the Go Teacher program.
During their time in the U.S., Go Teacher participants work to develop their own listening, speaking, reading, and writing skills in English. As they advance their pedagogical knowledge, skills, and capacities through TESOL professional development, they explore what it means to teach the whole student from a biography-driven perspective. They learn strategies that promote student engagement, and they investigate theories and research that illuminate why teachers must always consider students' sociocultural, linguistic, cognitive, and academic dimensions as they plan, implement, and assess instruction.
The success of the Go Teacher professional development program also paved the way for two cohorts of Ecuadorian scholars, many returning Go Teachers, to come to K-State for an accelerated, yearlong master's degree program in the College of Education. In December 2014, 42 students graduated with a master's degree in Curriculum and Instruction, with an emphasis in ESL. An additional 19 scholars earned this advanced degree in December 2015. Five graduates of the master's program now plan to pursue a Ph.D. in Curriculum and Instruction, beginning Fall 2017.
We take pride in the personal and professional accomplishments of our Go Teacher alumni. We also celebrate their theory-into-practice applications of learning to their own classroom settings in Ecuador. In the end, our collective work is meant to benefit the learning of students. As Go Teacher alumni share with us their stories of success in using biography-driven strategies and techniques to reach children, adolescents, and adults, we continue to learn from one another. Through our collaboration, we work together to advance English education in Ecuador and to inform the perspectives and practices of K-State and our global educational community.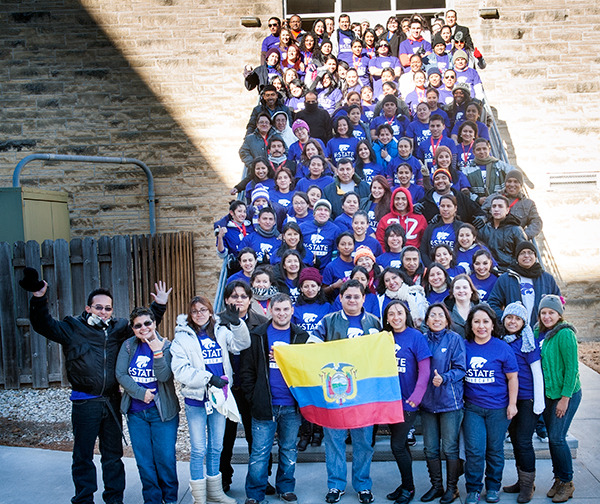 The Go Teacher program has not only provided Ecuadorian teachers with ways to improve their English skills and teaching practices, but it has also shown us the importance of true reciprocation. As we learn from one another, our collaboration will continue to advance English education throughout Ecuador and inform the perspective and practices of the entire K-State community. To learn more about the positive impacts the Go Teacher program has had, please watch our documentary, Vale la Pena.
---
Please see our Ecuadorian Go Teacher Program highlights video:
---
After Go Teacher participants return to Ecuador, a team of highly qualified scholars travel to Ecuador and visit program graduates' classrooms to observe the impact of biography-driven instructional strategies on students' learning.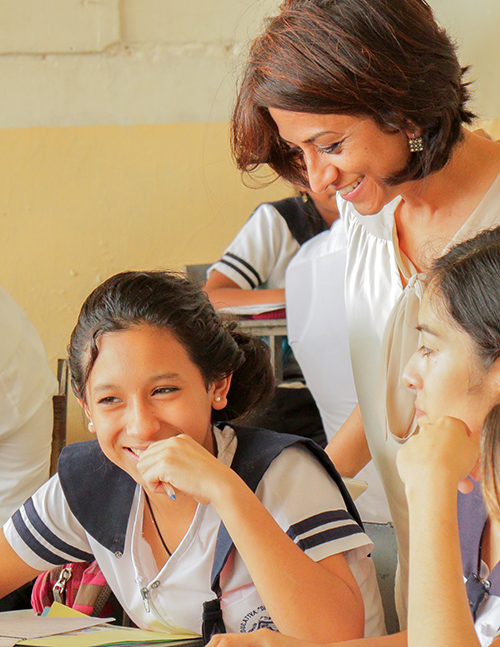 ---
A plaque expressing gratitude from the Ecuadorian government to Kansas State University on behalf of the Go Teacher Program and its first group of participants (left to right: Dr. Socorro Herrera, Dean Debbie Mercer, Dean Sue Maes, and Sharon Brookshire)