Coloring With the Cats
All profits from the sale of this coloring book will benefit students preparing to be art educators in the College of Education. We thank you for your support!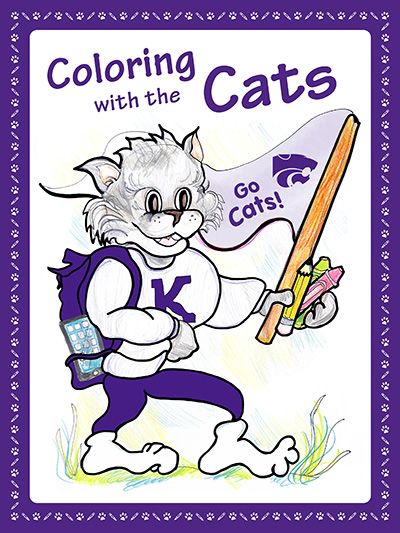 PRICE: $10.00 each
(includes shipping)
TO ORDER:
Email your request and shipping address to Pam Monroe at pmonroe@k-state.edu. She will send instructions for you to mail a check – $10 for each book (made payable to the KSU Foundation).
Books can also be purchased in the Dean's Office, Room 006 Bluemont Hall.
This creative project was brought to you by the K-State College of Education Art Education Program.
The College of Education's Art Education Program had some fun drawing the amazing sights of Kansas State University, which is said to be the most beautiful university campus in Kansas! We are a bit partial to the purple and white! Whether you are young or young at heart, you will enjoy holding those wonderful crayons, markers, and colored pencils and bringing each page in this coloring book to life with your own creativity. Tear the pages out and display them around your homes, schools, and businesses. Share the K-State Family!
NOW, it's time to do some COLORING WITH THE CATS!
---
About the Artist
Using her incredible eye and creativity, Marie Taylor, senior in secondary education with a concentration in art education, brought so many iconic scenes from K-State to the pages of Coloring With the Cats. You can sense the energy on each page! All children, those that are young and young at heart, will love adding color and vibrancy… and plenty of purple to each page!
On campus, Marie is the president of the K-State student chapter of the National Art Education Association, served as the Media Development Chair for the Education Council Leading and Learning Lecture, and was a co-speaker for the KSU Office of International Programs Vernon Larson Lecture. Marie co-presented at the National Art Education Association's 2017 Convention in New York. She also spent two years as a member of the K-State Cross Country and Track & Field team.
In the community, Marie spent two years as a gallery teacher and summer intern at the Marianna Kistler Beach Art Museum, volunteered at the International Folk Art Festival in Sante Fe, New Mexico, was a workshop teacher for IFAA Summer Education Outreach, a co-judge at the Martin Luther King Jr. Art Show at the Manhattan Public Library, and a Cats for Cans volunteer. She also was a Cats in the Classroom volunteer, a project for student athletes to visit elementary and secondary classrooms and encourage reading.
Marie says: "I believe a teacher is armed with the capacity to DEFEAT or INSPIRE their pupils. I hope to INSPIRE a rich curiosity in my students. I want them to question, observe, and think independently. I want to share art making and color with my students. I want them to learn more about our world's cultures and the diverse beauty it offers."